Tax rebates soon for 3.5 million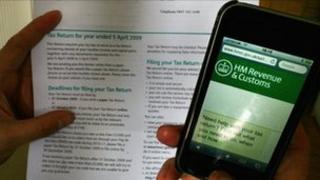 About 3.5 million taxpayers will receive a tax rebate in the next few weeks, averaging £379 each, for the 2011-12 tax year.
Another 1.6 million people will be told they have underpaid and now have to pay on average £537 each.
HM Revenue & Customs said the letters were due to its annual reconciliation of peoples' PAYE tax codes against their final earnings and tax payments.
This year the letters are going out two months early, HMRC said.
"We are pleased that we are able to start this process more quickly than in previous years, giving money back to those we owe and delivering certainty to those with something to pay," said Stephen Banyard of HMRC.
Similar exercises have been controversial since the introduction of a new PAYE computer system in 2010.
This revealed the need for extra tax adjustments which had been overlooked by the previous manual systems.
Eventually they affected 22 million people, going back as far as 2004-05.
Last year, the normal reconciliation exercise saw nearly five million people being told they had either overpaid or underpaid tax in 2010-11.
HMRC explained that the main reason for people having to pay more, or being sent a refund, was that their circumstances had changed during the course of the year.
Examples might be receiving more benefits-in-kind from employers, having more than one job, or a pension, with the personal tax allowance being spread between them, and because some people had moved jobs with gaps in between.
The letters will start going out on 17 May, with the last being sent this coming October.
HMRC said that taxpayers did not need to take any action, as most people who owed money would have the repayments taken from their earnings in the next tax year via an adjusted tax code.