China's data underlines economic slowdown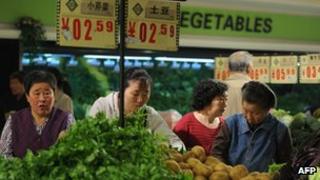 The latest data from China has indicated that the country's economy is continuing to slow, raising the prospect of monetary policy easing.
In April, factory output, retail sales and consumer price growth all slowed, a sign that global and domestic demand was falling.
The data comes just a day after China reported that its export and import growth had slowed during the month.
Analysts said fresh measures were needed to sustain growth.
Factory output rose by 9.3% in April from a year earlier, down from 11.9% growth in March.
Retail sales also grew by a less-than-expected 14.1% from a year earlier, compared with an annual growth of 15.2% in the previous month.
Meanwhile, consumer price growth slowed to 3.4% during the month, from a year earlier, down from 3.6% in March.
"The bottom line here is that the focus very much now is on growth," Song Seng Wun of CIMB Research told the BBC.
"The slower pace of rise in consumer prices gives enough room to the central bank to step in and ease its policies further if it wants to."
Further slowdown?
Rising consumer prices have been one of the biggest causes for concern for China's policy makers in recent times.
The rate of inflation hit a three-year high in July last year, with prices rising at an annual rate of 6.5%.
However, price growth has been moderating ever since, led by a drop in food prices month-on-month, especially that of pork, a staple of the Chinese diet.
Pork prices rose by 5.2% in April from a year earlier, compared with 11.3% annual growth seen in March.
At the same time, the recent drop in oil prices has also helped to keep consumer price growth in check.
Alistair Thornton, from IHS Global Insight in Beijing, said he expected the rate of inflation to slow further in the coming months.
"We think the inflation outlook for this year is benign," he said.
The rate of inflation has now been under the government's target of 4% for three consecutive months.
Too early?
China has been trying to boost domestic demand in an attempt to offset the fall in global demand for its exports.
Prompted by concerns of a slowdown in its economy, China's central bank has taken steps to ease its policies to boost demand at home.
It has cut the reserve ratio requirement for banks twice in the past few months. The cuts essentially mean that banks have more money available to lend to consumers, as they have to keep less of it in their reserves.
But domestic consumption has not picked up enough. Data released on Thursday showed that imports grew by just 0.3% in April from a year earlier, compared with 5.3% in March. Most analysts were expecting growth of close to 10% in April.
That has led to calls for the bank to do more and cut interest rates to spur demand.
However, some analysts say policy makers are being cautious because they are concerned that the low cost of borrowing may result in increased speculation in the property market, something the authorities have tried hard to curb in recent months.
"The last thing they want is to make a U-turn too early and see money going back into non-productive areas such as the property sector," said CIMB Research's Mr Song.