UK interest rates held at 0.5%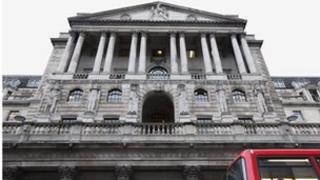 The Bank of England has continued to hold UK interest rates at a record low of 0.5% and is not extending its quantitative easing programme (QE).
QE is the Bank's scheme to boost the economy by buying bonds. In February, the Bank's Monetary Policy Committee (MPC) boosted the stimulus to £325bn.
Rates have been at 0.5% for three years, despite persistent inflation.
In March, the Consumer Prices Index (CPI) measure of inflation rose to 3.5%, from 3.4% in February.
CPI inflation has been running above the Bank of England's target rate of 2% for 28 months.
Minutes from April's meeting of the MPC showed that policy makers were becoming more concerned about inflation.
One member of the committee, Adam Posen, dropped his vote for more QE.
With the economy back in recession, some economists believe that the Bank will have to extend the QE programme.
"The combination of sluggish activity and sticky inflation put the MPC in a difficult position, and this decision is likely to have been a close call," said Ian McCafferty, chief economic adviser to the CBI.
"With economic conditions subdued, and signs of euro-area tensions building again, another round of QE cannot be ruled out."
Economists say that the latest decision shows that worries over inflation are trumping concerns over the flagging economy.
"Given that the MPC will have had access to forecasts which are quite likely to have shown a sharp reduction in their growth forecast this year and probably next, it's evidence the committee is very concerned about inflationary pressures," said Peter Dixon, an economist at Commerzbank.
"You might get more QE in response to the eurozone problems, but the BoE has wisely decided to keep its powder dry in case it needs to do more in future," he said.
The Bank of England has been grappling with weak growth and high inflation for some time.
"Again and again, growth has been weaker than expected, and inflation has been higher," says the BBC's economics editor, Stephanie Flanders.
She says there are a number of reasons why inflation is so stubborn in the UK.
"Companies are finally trying to rebuild their margins by marking up prices, after years of being squeezed," she said.
"More worrying in the long-term for all of us is that we simply do not have as much spare capacity as we thought we did."