Smaller engines drive petrol revival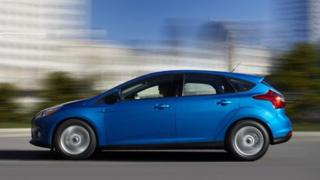 Criss-crossing the Essex countryside in a Ford Focus cannot be described as an earth-shattering experience.
In fact, the cost to the planet is really rather small.
Little petrol is burnt by the car's tiny three-cylinder engine, and not much carbon dioxide (CO2) is emitted either.
Yet, Ford's newest petrol engine is just as powerful as the engine it replaces, even though it is 30% lighter.
"The downsizing has actually achieved a carry over power, with a one-litre engine replacing a 1.6 litre engine," observes Tim Winstanley, Ford of Europe's powertrain manager.
"And we've managed to get a 15-20% fuel economy improvement."
'Evolutionary and revolutionary'
But if the smaller engine gives Ford a bit of an edge on its rivals at the moment, the carmaker is not the first to go down this road.
"We see engine downsizing across the industry," according to Kaushik Madhavan, research director at Frost & Sullivan, a consultancy, "though the car companies are taking different routes to get there."
Fiat, for instance, uses a single turbo two-cylinder engine in its dinky 500 Twinair, true to the original Cinquecento from 1957.
The engine has been designed to be fuel efficient thanks to careful management of the amount of air that enters the engine, which helps it manage its combustion.
It is all done with the use of electro-hydraulic controls of the inlet valves, in place of a camshaft.
"Ford's engine is evolutionary," according to Mr Madhavan.
"But Fiat's is revolutionary."
The retro-designed Fiat is said to return almost 70mpg, with CO2 emissions of just 95g/km.
Though this will obviously not be the case for drivers who are seduced by the engine's excited note.
It sounds like a mix between a moped and an old American muscle-car so it is hard to resist driving it hard.
'Unique and very successful'
The Volkswagen group is another pioneer in the field, having introduced a downsized, boosted direct injection petrol engine as early as 2005.
VW's 1.4 litre TSI petrol engine is twin-charged, so it delivers better power and torque characteristics than a 2.3 litre naturally aspirated engine, again with much improved fuel economy and reduced emissions, the carmaker insists.
"Volkswagen's approach is different again," says Mr Madhavan.
"It is very unique and very successful. Few carmakers have come up with engines that are both turbocharged and supercharged."
'Aggressive downsizing'
Similar developments are taking place across the motor industry, with even high-end manufacturers such as the world's largest luxury car company BMW preparing to introduce frugal three-cylinder engines in its cars.
"Consequently, petrol engines will see much more aggressive downsizing than diesel engines," says Mr Madhavan.
Hence, by 2018, Frost & Sullivan predicts that:
more than half the petrol-powered cars sold in Europe will have engines smaller than 1.2 litres, compared with a quarter in 2010,
cars with tiny petrol engines, smaller than 1 litre, will treble their market share from 5% to 16%
only 5% of petrol cars will have 2 litre engines, down from 10% in 2010.
In other words, petrol is fighting back after having lost ground to diesel in recent years, predicts Ford's product manager Andrew Paton.
This is particularly relevant for small cars used mainly for short journeys that leave little time for diesel engines to reach their optimal temperatures, he explains.
"Inertia means diesel will continue to dominate for some time," he says.
"But emotionally, we think there should be a significant move out of increasingly complex and expensive diesel engines, because petrol often works out cheaper, with better fuel economy and lower emissions."
Small petrol engines can also make cars more fun to drive, thanks to their reduced weight.
So for drivers, less is more.
Follow Jorn on Twitter