Repsol details cost of YPF nationalisation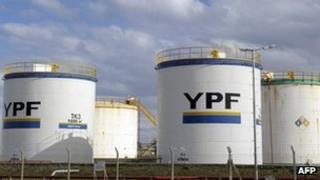 Spanish oil company Repsol has released results showing the costs of the nationalisation of its majority stake in YPF by Argentina.
Including YPF, Repsol's first quarter net profit was 792m euros ($1.026bn; £637m), up 3.5% from a year earlier.
Excluding YPF, its net profit was only 643m euros, although that was up 12.4% from comparable figures last year.
Rising oil prices and growth in its liquefied natural gas business boosted profits.
Argentina provisionally seized Repsol's majority stake in YPF in April before overwhelmingly passing legislation to do so in May.
Repsol said its lawyers were studying the legality of Argentina's 51% expropriation of YPF from the group.
"Our legal council is working on a definition of the legal path to follow and has already started some actions," said Miguel Martinez, Repsol's chief financial officer.
The Spanish government and the European Union have also protested against the seizure.