News Corp reports jump in profit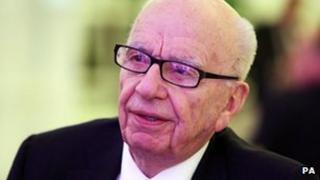 Rupert Murdoch's News Corporation has reported a jump in quarterly profits, boosted by its cable networks and its Hollywood film unit.
Net profit for the three months to March rose to $1bn (£620m) from $682m in the same period the previous year.
Mr Murdoch has become embroiled in a phone-hacking scandal in the UK at the News of the World tabloid.
But it has not had a negative impact on News Corp's shares over the past year - they have risen by 10% in that time.
The results included a $63m charge "related to the costs of the ongoing investigations initiated upon the closure of the News of the World".
Last week News Corp's board gave their backing to Mr Murdoch, their chief executive and chairman, after a UK parliamentary media committee report accused him of being "not a fit person" to run a major international business.
Deputy chairman Chase Carey reaffirmed that support on Wednesday in a conference call after the financial results were released.
He said Mr Murdoch was "one of the smartest and most forward-thinking executives of our time and both I and the board rebut any notion that he is unfit to run the company".
The now-defunct News of the World was owned by News International, itself a subsidiary of News Corp.
Movie boost
News Corp's fiscal third-quarter results showed a 2% rise in revenue to $8.4bn.
The firm also said it was doubling its share buyback programme to $10bn.
News Corp owns the Fox television networks and 20th Century Fox film studio, as well as newspapers in the US, UK and Australia.
Operating income at its cable networks increased by 15% to $846m, with large growth seen in the US, Latin America and Asia.
Its entertainment unit saw a near-10% rise in operating income to $272m, boosted by the film Alvin and the Chipmunks: Chipwrecked.
But operating income fell 11% to $171m at its broadcast television unit, which did not air the Super Bowl this year and saw ratings for American Idol fall.
"Once again, News Corporation showed strong operational momentum in the quarter, driven by significant growth at our cable network programming and filmed entertainment segments," Mr Murdoch said in a statement.
"With our disciplined approach to monetising our brands, I believe we are better situated than ever to capitalise on the increasing global demand for our superior content."