Greek bailout: Eurozone holds back 1bn-euro payment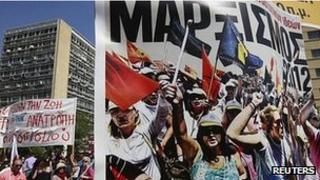 The eurozone's rescue fund has decided to hold back 1bn euros ($1.3bn; £800m) of the latest instalment of its bailout to Greece.
This comes after a majority of Greeks voted against the political parties that supported the country's bailouts and the austerity they have imposed.
The rescue fund said that it would disburse 4.2bn euros of the 5.2bn euros due to Greece.
It said that Greece did not need the remaining funds this month.
The 1bn euros will be released later "depending on the financing needs of Greece", the board of the European Financial Stability Facility (EFSF) said in a statement.
"As with previous disbursements to Greece, the EFSF will transfer the 4.2bn euros into a segregated account which will be used for debt service payments."
Eurozone finance ministers will consider whether to disburse the remaining 1bn euros when they meet on Monday, a source told the AFP news agency.
But a eurozone source told the BBC that while this could happen at the meeting, it was "not likely".
The EFSF has previously held back portions of the bailout if Greece did not immediately need it to pay off the interest payments on its debt.
The uncertainty of whether Greece might leave the eurozone has spooked investors and angered European officials, who want Greece to stick to the austerity cuts previously agreed.
Greece is due 39.4bn euros - of its 110bn-euro bailout - before the end of June.