German exports rise for the third month in a row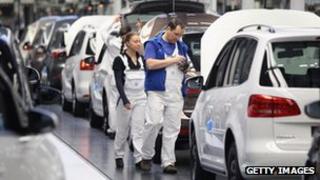 German exports grew for the third month in a row in March, with goods worth 98.9bn euros ($128bn; £80bn) exported.
Exports were up a seasonally adjusted 0.9% over the month, following a 1.5% increase in February.
German firms had the most success in markets outside the European Union, where they recorded growth of 6.1% compared with the year before.
The seasonally-adjusted trade surplus remained flat at 13.7bn euros from a revised 13.7bn in February.
"The German economy is profiting from the revival of world trade," said Ulrike Rondorf of Commerzbank.
"Demand from the United States has increased and from Asia too. As German companies are very competitive they are especially well placed to profit from this.
"The German economy should just have avoided a recession in the first quarter. It should be growing again, if only slowly."
While exports to countries outside of the EU grew, exports to countries in the crisis-hit eurozone shrank by 3.6%.
Imports were up 1.2%, data from the Federal Statistics Office showed.