Yahoo investor demands records in bid to oust executive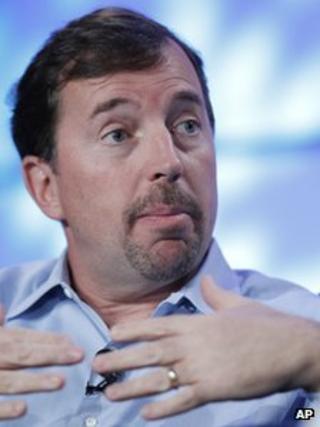 A shareholder seeking the dismissal of Yahoo's chief executive has demanded the search firm allow access to documents relating to his recruitment.
In January, Yahoo named Scott Thompson, the president of online payments firm Paypal, as its new head.
But investment firm Third Point discovered that Mr Thompson did not hold a degree in computer science as had been claimed.
Third Point had set a Monday deadline for Yahoo to fire Mr Thompson.
The chief executive apologised to staff in a memo on Monday, but made no mention of why his biography had listed the degree he had not received.
"We have all been working very hard to move the company forward, and this has had the opposite effect," he wrote.
"For that, I take full responsibility, and I want to apologise to you."
'Debacle'
Mr Thompson graduated from Stonehill College and was said by Yahoo to hold a degree in accounting and computer science - though the college did not offer the latter subject at the time.
Yahoo has acknowledged the "inadvertent error" and has said it will conduct a review .
But after the Monday deadline passed without incident, Third Point demanded that Yahoo hand over documents and records related to Mr Thompson's recruitment.
"Third Point believes that Yahoo shareholders and employees will be best served if the board accepts responsibility quickly for this latest debacle," it said.
It wants to "investigate wrongdoing or possible mismanagement" by Mr Thompson and the board over the issue.
The Yahoo board met on Monday to discuss the mounting furore over the situation, Reuters reported.
Reuters quoted a source as saying the meeting was expected to address aspects of an internal review, including which board members would participate.
'Head scratcher'
Daniel Loeb, chief executive of Third Point, has been credited with sparking previous changes on Yahoo's board, namely the resignations of co-founder Jerry Yang and former chairman Roy Bostock.
But Adam Seessel, director of research at Martin Capital Management, which owns Yahoo shares, said Mr Loeb's attempt to oust Mr Thompson was a "head scratcher".
The Yahoo board has come under fire from investors recently for being slow to effect a turnaround and for delays to a deal to sell back all or part of its stake in Chinese internet company Alibaba
"If it were normal times, this would warrant a dismissal," Mr Seessel said of Mr Thompson's overstated qualifications. "But he's so new and the company is in such a sensitive spot.
"Sometimes in the heat of the battle, you can't get rid of your commander... and a battle is going on."