Indonesia's economy grows at slowest pace in 18 months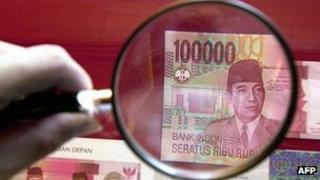 Indonesia's economy grew at its slowest pace in 18 months amid a slowdown in exports as demand from key markets such as the US and Europe weakened.
The economy grew by 6.3% in the first quarter from a year earlier, down from 6.5% in the previous three months.
Analysts said strong domestic demand and state spending helped cushion the impact of a slowdown in exports.
However, they warned that domestic demand may be hurt in coming months, not least due to a weakening currency.
"The key would be to see how domestic demand performs in the coming quarters," said Gundy Cahyadi of OCBC Bank.
"While sentiment remains very supportive, we would caution that the recent weakness in the rupiah may be a concern in the near-term, at least to the extent that this may affect consumption," he added.
The Indonesian rupiah has fallen 8% against the US dollar in the last twelve months. The fear is that a weak currency may hurt the purchasing power of domestic consumers and dent demand.
That does not bode well for Indonesia as domestic consumption accounts for nearly 60% of its economy.
Double whammy?
At the same time, there have also been concerns of a slowdown in its mining sector, one of the key contributors to Indonesia's growth in recent years.
Last week, Indonesia announced that it will impose a tax on export of 14 raw minerals from the country, in a bid to increase its revenue from the sector and encourage local processing of minerals
It is also planning to ban exports of certain raw minerals from 2014.
Earlier this year, the government said it would limit foreign ownership of Indonesian mines to 49%, a move which critics have said may slow investment in the sector.
Adding to these concerns are fears that demand for Indonesia's resources may fall as growth in the region's economies such as India and China slows.