'The world won't allow us to be a few steps behind'
By Katie Prescott
Business reporter, BBC World Service, Moscow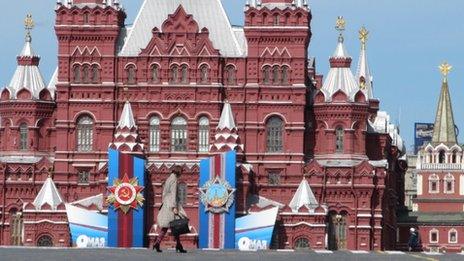 Zhana Shalinova is proud of the 16 new jobs she has created in her start-up company that is only a month old.
As she shows us round the smart offices in north-east Moscow, home to her online retail business, Lokata, young developers tap away rows of desks, establishing a search engine for Russia's shoppers.
She is looking forward to expanding quickly. "There are many bureaucratic things in Russia which make life not so easy," Ms Shalinova says.
"But I'd say that in the internet industry - and the number of start-ups right now popping up everywhere - it's actually not so difficult to start something here in Russia. This area is something that's developing really fast and this is the future."
And this kind of optimism is music to Russian leaders' ears.
Vladimir Putin, who replaces Dmitry Medvedev as president, is hoping to develop this fast growing sector - and move away from the economy's dependence on commodities.
But Ms Shalinova readily admits that hers is an unusual set-up in Moscow, and she has been very lucky.
She is part of a business accelerator called Fast Lane Ventures, which takes internet companies, gives them office space, expertise and investment to help them grow.
However, not all small businesses are finding it this simple to set up shop in Russia.
The World Bank ranks Russia 120th in the world in terms of doing business. And the reason it is so low is corruption.
For example, Ilya Handrikov, who ran a company making uniforms, fell victim to corruption during the 2008 economic crisis when he was forced to pay a $50,000 bribe to a tax officer.
Mr Putin has pledged to drag Russia up the ranks of the World Bank's list on "ease of doing business" to 20th place. Mr Handrikov does not expect this to happen.
"Small businesses didn't see any changes under Medvedev," he says. "We saw that new laws were adopted, but they did not make life for entrepreneurs any easier.
"Just the opposite - now we have to do enormous amounts of paperwork. Comparing Putin with Medvedev is like comparing a bad policeman with a good policeman."
The problem is not only at a start-up level. It even seeps into the upper echelons of the super-rich.
Banker and newspaper baron Alexander Lebedev, best known as the owner of London's Evening Standard newspaper, agrees that something has to change to stop corruption in Russia eating away at business.
"Unless we unite on this matter, we'll be sitting on a volcano which is far more serious than the Greek or Italian problem," he says.
Mr Lebedev says rich Russians are sending money out of the country because they just do not trust the legal system.
"Half of my business has already been ruined by government agencies - not under instruction from the top: it just happens. If I were advising Putin on what to do it would be the judicial system in this country should be efficient, independent and acceptable.
"The reason why Russians are suing each other in London is pretty simple - the judicial system in London is accessible and efficient and independent."
Only a short drive across Moscow, in the presidential compound, the man at the heart of economic reform says the Kremlin is facing up to this.
Arkady Dvorkovich is the young, smart, Twitter-savvy economic adviser to Mr Medvedev.
He acknowledges that corruption is holding back economic growth. "It's the main obstacle for Russian small and medium-sized companies, much more than for big foreign investors," he says.
"Big companies always find ways to go around those issues. This is why we're fighting the systemic problem that Russia and the Soviet Union had for centuries.
"For the first time in history, we've created anti-corruption legislation and now we have the legal basis to fight corruption. Thousands of people are in jail. That's the reality.
"But to eliminate the problem that we've faced for centuries, we need more than a couple of years."
He says that the move to create more technology businesses like Ms Shalinova's will work.
"If you look at the figures those industries that are not based in commodities are growing more than oil and gas. That's an important sign that diversification is a reality."
Back at Zhana Shalinova's offices, she is optimistic for the future and says there is nothing holding her back.
"Of course it is always a risk. You never know until you try, but with such great support we can minimise the risk," she says.
"If you have the right people who believe in this model, then you will succeed. In terms of our industry, it's crucial for the country to develop internet technology. And I don't think the speed will slow down.
"The world's changed, and it won't allow us to be a few steps behind."
Everyone seems to agree that Mr Putin's new tenure needs to bring with it an economic shift to sweep away corruption and grow the economy away from oil and gas.
But in a country as vast and diverse as Russia - even when backed by political will - the logistics of putting change into practice seem nigh on impossible.