Air France-KLM reports loss as fuel costs rise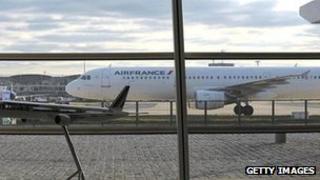 Airline group Air France-KLM has reported a loss for the first three months of the year, following higher fuel costs and a drop in cargo traffic.
Its first-quarter net loss was 368m euros ($483m;£299m), almost the same as a year before, although revenue rose 6% to 5.6bn euros.
Higher workforce costs because of a 2011 pay rise also affected profits.
"As expected, the first quarter was difficult in spite of an improvement in activity in March," the firm said.
Last year, Air France-KLM launched a plan to reduce costs by 10% and cut debt, and it said the effects of that plan should be seen in the second half of the current financial year.
Passenger traffic was up 5.5% and revenue in that business rose 8.8%.
Meanwhile operating losses grew to 597m euros from 403m a year ago.