HMV predicts return to profits next year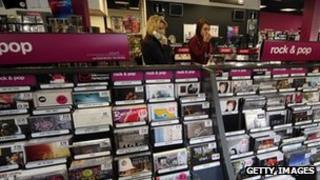 Troubled music and film retailer HMV has predicted a profit for the next financial year.
It is forecasting pre-tax profits of at least £10m for the 12 months from the end of April. City analysts expect a loss of about £5m for the period.
But HMV forecast a worse-than-expected loss for the current year of £16m.
For the year to 28 April, HMV Group reported an 11.4% decline in like-for-like sales, which exclude the impact of store openings and closures.
The retailer said trading in the first few months of 2012 had been hit by a "weak new release schedule in CDs and DVDs".
"The last year has been a difficult and challenging one for HMV and this will be reflected in our annual results," said chief executive Simon Fox.
"However we are confident that the actions we have taken will enable us to significantly improve our profit and cash generation in the year ahead."
HMV said its closer relationship with suppliers and the collapse of video games retailer Game Group would help it in the coming year.
The company is in the middle of a strategic review that may lead to the sale of its HMV Live business, which runs 13 venues and a number of festivals.
HMV shares rose 12% in early trading, but they have fallen 66% in the past year.
The company struck a deal with banks and suppliers in January that aimed to halve its debts in the next three years.
It had previously raised doubts about its ability to continue trading in its current form.
As part of the deal, suppliers were given 2.5% of the shares in HMV.
In the past year, HMV has sold its Canadian arm and the Waterstones book chain.