Facebook IPO values company at between $85bn and $95bn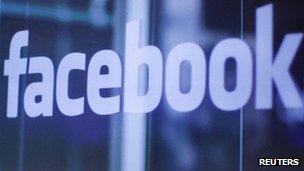 Facebook has set the share price for its upcoming initial public offering (IPO) at between $28 and $35 per share, valuing the company at between $85bn-$95bn (£52bn-£59bn).
The IPO is set to be the largest ever for an internet firm, bigger than Google's valuation of $23bn in 2004.
IPOs are when companies list shares on the stock market for the first time.
Facebook is set to list on the Nasdaq and would rival Amazon's and Cisco System's current market values.
It is thought that Facebook will start promoting the share offering on Monday. Its shares are expected to start trading under the symbol "FB" on 18 May.
More than 10% of the business is being sold, which is expected to raise about $12bn for the company.
The eight-year-old social network has 900 million users worldwide and made a profit of $1bn last year.
There is expected to be a huge take-up, though some investors have voiced concerns about the company's longer-term growth.
Last week, Facebook reported its first drop in revenue between quarters for two years.
But during a video presentation on Thursday Facebook executives sought to allay those concerns, pointing to mobile as an area for growth that the company will invest heavily in.
Last month Facebook said it would buy the fast-growing mobile phone photo sharing app Instagram for $1bn, its largest purchase ever.
The higher valuation still falls short of the $100bn that had been talked about for Facebook.
But it is not uncommon for IPO price ranges to move up if there is strong investor demand for the stock.
Facebook founder and chief executive Mark Zuckerberg will remain in control of the company even after the IPO, controlling more than 57.3% of the voting power through shares he holds and through voting agreements with other stockholders.
He will own 31.5% of Facebook's outstanding stock. At the top end of the price range, this would make his holdings worth $17.6bn.
Such a value would put him at about number 33 on Forbes' list of the world's richest people.
Related Internet Links
The BBC is not responsible for the content of external sites.