High unemployment to do 'permanent damage' to UK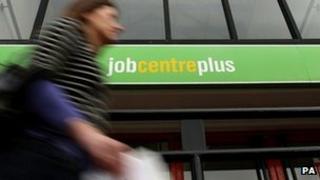 The UK unemployment rate will rise from its current 8.3% to almost 9% by the end of this year, doing "permanent damage to the UK's productive capacity", a think tank has said.
The National Institute of Economic and Social Research (NIESR) said that the persistent weakness in the economy was "unprecedented".
It says growth in 2012 will be close to zero. It forecasts 2% growth in 2013.
On Thursday, the CBI forecast growth of 0.6% this year and 2% next year.
Official figures from the Office for National Statistics (ONS) last week showed that the economy shrank by 0.2% in the first quarter, returning the UK to recession.
Moot point
NIESR acknowledged that later revisions may change this, but said "small quarter-to-quarter movements of this sort are largely irrelevant to the broader picture of an economy that remains very weak".
"Our monthly estimate of GDP suggests the level of economic activity in the economy in March 2012 was the same as in September 2010," it said in its latest forecast for the UK economy.
"This clearly does not constitute a sustained recovery, so the question of whether or not the economy is technically in a double-dip recession is moot."
It said that four years after the start of the recession, the economy was still well over 4% below its pre-crisis peak, showing unprecedented weakness over the period.
It said it expected unemployment to remain elevated until 2013, which was likely to do "permanent damage to the supply side of the economy, with large long-run economic costs".
However, NIESR said its growth estimates were essentially unchanged from its January forecast and it expected inflation to fall below the Bank of England's 2% target by the end of the year.