Weetabix bought by China's Bright Food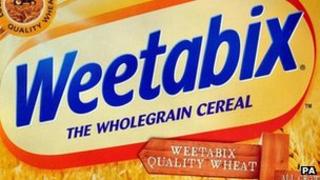 China's Bright Food has bought a controlling stake in Weetabix, which owns the breakfast cereal brand as well as Alpen and Ready Brek.
Bright Food will take a 60% stake in Weetabix in a deal that values the company at £1.2bn.
The Northamptonshire-based firm was family-owned until 2004, when it was bought by Lion Capital.
Weetabix says its trademark breakfast cereal accounts for 7% of UK cereal sales, with annual sales of £101m.
Bright Food chairman Zongnan Wang said: "With Bright Food's strong resources and our expertise in both the Chinese and broader international markets, we are excellently placed to develop the Weetabix business."
The deal is the largest done by a Chinese company in the food and drink businesses.
In 2011, Bright Food had revenues of $12.2bn.