PPI mis-selling: Who is to blame for influx of claims?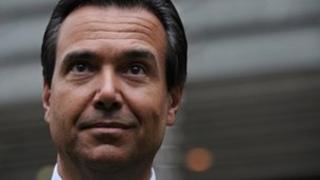 Antonio Horta-Osorio, the chief executive of Lloyds Banking Group, no doubt smelt a rat when he received calls suggesting he could claim mis-selling compensation from his own bank.
Now he has gone on the offensive against claims management companies and their scattergun approach to making compensation claims for payment protection insurance (PPI) mis-selling.
Mr Horta-Osorio says that one in four claims relates to people who never had a PPI policy with the bank in the first place.
These spurious claims are costing the bank money, he says, as Lloyds sets aside another £375m to deal with the mis-selling scandal.
But how fair is his criticism?
The group that represents these claims companies says many people cannot remember whether they had PPI policies year ago.
And, after all, if it was the banks that created this mess by mis-selling PPI, should they not have to pay to clear it up?
Huge bill
PPI is supposed to cover borrowers' loan repayments if they fall ill, die, or lose their jobs. It became highly controversial after the policies were sold, often without the customer's knowledge, along with loans and mortgages.
Some people found it was impossible to invoke the insurance policy, and others only received a small refund of premiums when they paid off their loan early.
After years of campaigning by consumer groups, and a string of court hearings, banks have started the lengthy process of paying out compensation.
Last year, they paid out £1.9bn to the victims of mis-sold PPI. An estimated £5bn is still expected to be paid out.
There has been a burst of claims at the start of this year, prompting Lloyds to set aside the extra funds, taking its provision for PPI compensation to £3.6bn.
A few days earlier, Barclays announced that it was setting aside an extra £300m on its PPI bill, on top of the £1bn provision in 2011.
With such huge amounts involved, PPI claims have become a lucrative business opportunity for an estimated 800 claims management companies.
They have spent an estimated £2m a month of advertising their services - to claim compensation on behalf of bank customers. Most of this advertising can be seen on television.
If claims are successful, they take a cut of 25% or more from the average £3,000 payout.
Pointless claims
On the one hand, these customers can include people like Declan Sharkey. He recently told the BBC how he received £400 that he had "never expected to get back".
He did not realise that he could have made this claim on his own but, equally, he might never have realised he had anything to claim.
The banks say that many claims management companies decide that the best way to work is simply by harvesting as many customers as they can. Then they send their details to all of the banks claiming they were mis-sold PPI.
As a result, many of these people never had PPI policies, so there is nothing to claim. Some have never even been customers of the bank.
A spokeswoman for Lloyds says processing these claims still costs time and money, even though it is obvious that those involved are not the victims of mis-selling. If the claim goes on to the ombudsman, that is an additional bill of £850 for the bank.
A Barclays spokeswoman says that the extra funds set aside for PPI mis-selling is the result of an increase in complaints.
"One of the factors in this is the large number that come from claims management companies, some of which are spurious," she says.
'Forgotten'
Andy Wigmore, policy director for the Claims Standards Council, which represents some claims management companies, says that the banks are unfairly shifting the blame in the PPI saga.
He says these companies are simply trying to find out whether people are able to make a claim, and these businesses only profit if there is a successful claim anyway.
"If someone took out a loan on a credit card 10 years ago, they might not know or may have forgotten the details," he says.
He also argues that customers retain a mistrust of the banks. They would prefer a claims management company to act on their behalf against a bank that might have mis-sold them a PPI policy in the past.
Finally, he claims that there is evidence of banks delaying payouts of compensation claims. Companies can follow these up, he adds, going on to say that experts may also be needed to ensure these people are not short-changed with their payouts.
Code of conduct
The banks accept that they work successfully with some claims management companies, but they are encouraging customers to make their own claims, bypassing these businesses.
They are supporting a push by consumer groups to advertise the do-it-yourself claim by bank customers.
Many banks and credit card companies recently agreed to simplify and standardise the claims procedure across the industry to make it easier for people to make a PPI claim on their own.
However, some people may choose to use a legitimate claims management company for a key reason - it is authorised by the Ministry of Justice.
These companies, listed on a database run by the ministry , are obliged to comply with strict conduct rules.
These include:
No face-to-face cold calling, or high-pressure selling
Providing written information on how to pursue a claim and the costs involved
Allowing a cooling-off period of 14 days after a contract is signed in case customers want to change their mind
Operating a customer complaints scheme
Yet, these rules have not always been adhered to, resulting in a team of officers checking on complaints.
"We have made it very clear to businesses that we take a zero tolerance approach to any malpractice or attempts to take advantage of consumers, which is why we have a dedicated unit investigating claims management companies who mishandle PPI claims," says a spokeswoman for the ministry.
"This work is ongoing. We investigate all complaints made against businesses and where a breach of the rules is identified, enforcement action is taken that can result in the business being closed down."
There are factsheets to help consumers make a choice about claiming compensation for PPI mis-selling.
The more they do, the more that banks count the cost of the scandal.