BSkyB says it is a 'fit and proper' licence holder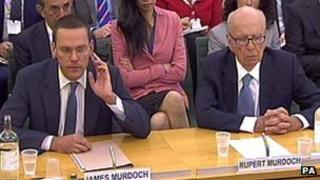 BSkyB says it remains a "fit and proper" holder of a broadcasting licence.
The satellite broadcaster said it was engaging with the regulator Ofcom in its assessment of BSkyB's suitability.
Rupert Murdoch, whose News Corporation owns 39% of BSkyB, has sent an email to staff saying the business will be "better and stronger" following the phone-hacking scandal.
BSkyB also announced a rise in customer numbers of 78,000 to 10.5 million.
The company's "fitness" to hold a broadcasting licence had been questioned as a result of the phone hacking scandal at News of the World and other newspapers owned by News Corporation.
The Liberal Democrats wrote to Ofcom on Tuesday urging it to hasten its review, but the BBC understands that the regulator will not be rushed into a knee-jerk reaction.
On Tuesday, the Commons media committee concluded that Mr Murdoch was "not a fit person" to run a major international business, although four of the 10 committee members disagreed, as the MPs split on party lines.
In his email to staff, Mr Murdoch said the committee's findings were "hard to read" but he was proud News Corp had worked to put things right.
BSkyB, meanwhile, used its trading statement to point to its "positive contribution to UK audiences, employment and the broader economy, as well as its strong record of regulatory compliance and high standards of governance".
Price freeze
BSkyB's operating profit for the nine months to the end of March came in at £939m, up 25% from the same period last year.
Its average revenue per user (ARPU) was £546 in the first three months of the year, which was up £9 from the same stage last year.
BSkyB said: "The impact of this year's price freeze [was] more than offset by our success in selling our home communications products to new and existing customers."
"The decision to focus our marketing on home communications has paid off with our fastest quarter of growth since launch and confirmation that Sky is now Britain's favourite triple play provider," said chief executive Jeremy Darroch.
Triple play customers buy their television, telephone and broadband services from the same provider.
BSkyB has 3.2 million such customers, up 24% from the same period last year.
The churn rate, which is the proportion of customers who left Sky during the period, was an annualised 10.1% - down from 10.4% at the same time last year.
Editorial investigations
In its statement, Sky said it had concluded a review of the editorial practices at Sky News and had "found no evidence of impropriety or cause for concern".
It has also reviewed two cases referred to by John Ryley, head of Sky News, at the Leveson Inquiry, in which a Sky News journalist accessed the emails of people suspected of criminal activity.
Sky said it had concluded that "the action was justified in the public interest and subject to proper editorial oversight".
Ofcom is investigating the hacking of the emails of the so-called canoe man John Darwin and of a convicted paedophile, Martin Smith.
Rupert Murdoch's son, James, stepped down as chairman of BSkyB on 3 April and was replaced by Nicholas Ferguson.
Independent chair
A US institutional investor in News Corporation has called for Rupert Murdoch's role as chairman and chief executive to be split and for an independent chairman to be appointed.
"We don't believe it's too late to turn News Corp around, but the company needs to act now to make real and substantive changes to start this process," said Julie Tanner, assistant director of socially responsible investing at Christian Brothers Investment Services.
"These scandals will have a long-lasting impact on News Corp's reputation, but by appointing an independent chair and seating independent board members, the company could begin the process of re-establishing public trust.
"Short of these measures, these scandals will continue to cloud the company and its stock for the foreseeable future."
Christian Brothers filed a resolution at the company's annual meeting calling for an independent chairman to be appointed.