BP profits slip in first quarter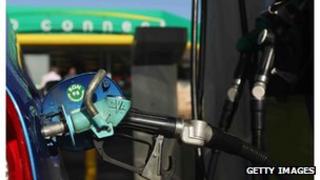 Oil giant BP has reported a slip in first quarter profits.
It made $4.9bn (£3bn) in replacement cost profit - profit stripping out the effect of oil and other price movements - for the first three months of this year compared with $5.6bn a year ago.
BP is shrinking in size after being forced to sell fields after the oil spill in the Gulf of Mexico in 2010.
It has so far paid $16.6bn into a trust fund and expects to meet its target of $20bn a year earlier than planned.
The blast at the Deepwater Horizon oil rig at the Macondo well killed 11 workers and created the worst offshore spill in US history.
Production falls
The group chief executive, Bob Dudley, said the results were encouraging: "We have made a good start against our strategic priorities for 2012."
He added that the company's continuing divestment programme now totalled $23bn.
BP said oil and gas production, excluding its Russian joint venture, TNK-BP, was down 6% to 2.45 million barrels of oil equivalent per day.
The oil price was higher for this quarter than it was last year. Brent crude prices averaged $118.60 a barrel last time, compared with $105.43 in the same period of 2011.
Keith Bowman at Hargreaves Lansdown stockbrokers said the results were mixed.
"Like rivals Exxon and Chevron, BP has failed to take advantage of the higher oil price. For BP, the Gulf of Mexico accident continues to overhang, with asset sales impacting production," he said.
"On the upside, planned asset sales are 60% complete, new exploration projects continue to be pursued, while the costs, at least for now, for the Macondo accident are reducing. "
The company said there had been tough conditions in its downstream unit, which sells fuels, lubricants and fertilizer.
With regard to the Deepwater Horizon blast, BP said it had paid a total of $8.3bn in individual, business and government claims, advances and other payments.
It added that the total charge in respect of the Gulf of Mexico spill had reached $37.2bn at the end of the first quarter.
The company has not admitted liability and still faces claims from the US and state governments, and drilling firms.