Australia cuts rates by more than forecast to 3.75%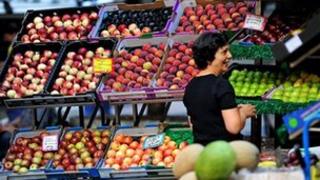 The Reserve Bank of Australia has cut interest rates more than expected because economic conditions were "somewhat weaker" than forecast.
It added that inflation had also moderated in recent months.
The bank cut its key rate to 3.75% from 4.25%. Most analysts were expecting a 0.25 percentage point cut.
There have been increasing signs that Australia's economy is being hit by a slowdown in global growth and demand for its resources.
"This decision is based on information received over the past few months that suggests that economic conditions have been somewhat weaker than expected, while inflation has moderated," the Reserve Bank of Australia (RBA) said in a statement.
"Growth in the world economy slowed in the second half of 2011, and is likely to continue at a below-trend pace this year."
The Australian dollar fell 1% to A$0.969 against the US dollar and a five-month low of A$1.5719 against the pound after the central bank's decision.
Australian shares rose, with the ASX 200 index ending the day 0.7% higher at 4429.5 points.
Aggressive support?
One of the biggest headaches facing policymakers over the past year or so has been the fact that Australia was developing a two-speed economy.
While Australia's mining and resources sector has been booming, the other parts of Australia's economy have not been doing as well.
Figures out last week only compounded the fears of analysts and politicians.
A report showed that new home sales fell to their lowest level in more than a decade in March. At the same time, home prices have fallen for a fifth straight quarter, while retail sales have shown little growth.
The government welcomed the interest rate move by the central bank.
"This is the interest rate cut that households and small businesses have been hanging out for," said Wayne Swan, Australia's Treasurer and Deputy Prime Minister.
"It is very welcome, it is well deserved and it is certainly much needed by households under financial pressure."
Further cuts?
Over the past seven months, the central bank has now cut interest rates three times amid signs that Australia's economy is slowing.
However, in earlier moves it was less aggressive in bringing down borrowing costs than many observers had hoped because it said that keeping consumer prices in check was one of its top priorities.
This time round it was able to do more because data from the Australian Bureau of Statistics showed that the rate of consumer price growth had almost halved during the first three months of the year.
According to the statistical office, prices grew by an annual rate of 1.6% in the three months to the end of March, compared with a rate of 3.1% in the previous quarter.
"The non-mining sector is weaker-than-expected and with inflation coming down, it's more appropriate for interest rates to be cut more aggressively," said Joshua Williamson of Citigroup.
Some analysts said that the bank still needed to do more to spur growth and that it may lower the cost of borrowing even further in the coming months.
"The economy is not certainly going to recover just because of the 50 point cut," said Shane Oliver of AMP Capital Investors. "We will probably see cash rates down to 3.25% by the year end."