China manufacturing activity expands for fifth month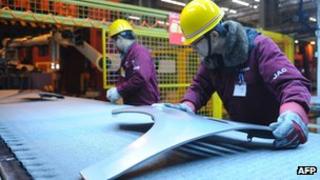 China's manufacturing activity has expanded for the fifth month in a row, easing concerns about a sharp slowdown in the world's second-largest economy.
The official Purchasing Manager's Index (PMI) rose to 53.3 in April from 53.1 in March, the statistics bureau said.
China relies heavily on its manufacturing and export sector for growth.
There have been fears that a slowdown in key markets such as the US and Europe might hurt China's economy.
The PMI is a key indicator of manufacturing activity and a reading above 50 shows expansion.
"The message is that Chinese manufacturing is growing, not as fast as in years past but faster than in the fourth quarter last year and enough to achieve the government's growth target for the year," said Dariusz Kowalczyk of Credit Agricole CIB.
'Signs of life'
The concerns of a global slowdown and its impact on China's economy have seen Beijing take steps to ease monetary policy in order to boost growth.
China's central bank has cut the amount of money that banks need to hold in reserves twice in the past few months, to try and stimulate lending in the country.
The move saw Chinese banks extend 1.01tn yuan ($160bn; £100bn) in new loans in March, much more than the forecast of 800bn yuan.
Analysts said the increased availability of credit had started to have a positive impact on the economy.
"There are signs of life in the economy and things should improve, all underpinned by an easing credit climate," said Ren Xianfeng of IHS Global Insight in Beijing.
China has set a target of 7.5% growth for its economy for this year.
Further growth?
Along with fears of a slowdown in the manufacturing and export sector, there have also been concerns about the health of China's property market.
China's robust growth in recent years has seen house prices soar. There had been worries that as growth slows, prices may fall sharply, hurting its economy.
However, so far there have been no signs of that happening.
"China has, thus far, avoided the much-feared hard landing," said IHS Global's Ren Xianfeng.
"Expect no major property meltdown or construction bust. Expect no deflationary spiral or banking crunch."
Analysts said that given the steadiness of the property market, policymakers were likely to continue to ease their policies to boost growth.
Ting Liu of Bank of America-Merrill Lynch forecast that China's economy was likely to grow at an annual rate on 8.5% in the second quarter, up from 8.1% in the first three months of the year.