Mazda bets on internal combustion engine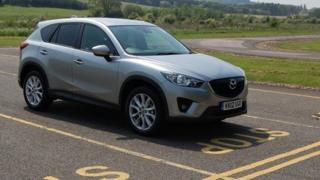 With electric motoring having become all the rage in the motor industry, it is rare to hear a carmaker sing the praises of the old, trusted internal combustion engine.
But one carmaker has decided to go its own way.
Rather than investing in plug-in or hybrid technologies - the way pretty much all its rivals have been doing - Mazda has channelled its funds into conventional engine and transmission research, as well as into a string of measures to reduce the weight of its cars' architecture.
And now, after years of targeted development and design, a Mazda that has been kitted out with its much-improved so-called Skyactiv technologies has arrived with dealers, whose pre-order books have turned into waiting lists in recent months.
New places
The CX-5 is about to take Mazda on a journey into corners of the market where it has never been before.
"It's more than just a compact sports utility vehicle for us," says Jeff Guyton, chief executive of Mazda Motor Europe.
The car represents Mazda's new design language, developed since Ford pulled out of their partnership, reducing its stake to just 3.5% in late 2010.
As such, it is the first of things to come, as the carmaker prepares to replace its entire model range over the next four years with new cars that will be radically different from what has been on offer in the past.
"It's a vehicle that gets us into new places."
Get combustion right
But although its looks are fresh, the CX-5 is not actually all that dissimilar to crossover models offered by rivals, such as Nissan's Qashqai, Ford's Kuga or Volkswagen's Tiguan to name but a few.
So the question is really whether it is any better.
Driving the car on various test routes at the Millbrook Proving Ground in Bedfordshire reveals a car that is lighter and arguably more involving than many of the crossover vehicles it is up against.
Crucially, it is also less thirsty and it emits less carbon dioxide than rival crossovers that deliver similar levels of performance.
The most frugal diesel version of the car delivers 61.4mpg (4.6l/100km), with carbon emissions of 119g/km, which is impressive when compared with rival crossovers with 150hp engines.
Mazda hopes this will help make up for its late arrival in the already crowded crossover market.
"We can provide hybrid-level fuel economy and carbon emissions levels in the CX-5 without the weight and the cost," insists Mr Guyton.
This gets the carmaker onto fleet-buyers' all-important shopping lists, as well as appealing to increasingly penny-pinching private buyers, so Mr Guyton expects Mazda's market share in Europe to double to about 3%.
Broad-based improvement
Mazda's fuel-saving technology depends on a dramatically high compression ratio which ensures its engines are highly efficient.
"Unlike our rivals, who use catalytic converters to reduce NOx (nitrogen oxides), we aim to get the combustion right in the first place so we don't need it," says Mr Guyton.
The main benefit of Mazda's Skyactiv technology, which also includes direct injection and twin-scroll turbochargers, is that it will go into all its engines and all its cars.
This means the efficiency gains will be seen across its entire fleet - rather than merely in a few electric or hybrid versions as is the case with many other carmakers, Mr Guyton explains.
"There's this enormous amount of waste, and if we can just save a little bit across the board we'll make an enormous difference, because the savings will be seen in all our cars, not just in a few of them," he says.
The Japanese carmaker is confident it can improve fuel economy and cut emissions by some 30% by 2015 when compared with its 2007 figures.
As such, the gains could be large if Mazda's ambitious sales targets are reached.
Making money
The Japanese carmaker believe its new technologies will do more than merely pay for themselves, however.
This is crucial, given that Mazda recorded losses totalling 107bn yen ($1.35bn; £859m) for the fiscal year to March 2012, compared with a 60bn yen loss during the previous year.
"The Skyactiv cost base is much lower" than Mazda's historic costs, Mr Guyton says.
"From a business point of view, it's much more profitable than our current range."
Combined with rising sales, Mazda is convinced such improved profit margins should help bring it back into the black in the year to March 2013.
Follow Jorn on Twitter