Terra Firma to buy Four Seasons Health Care for £825m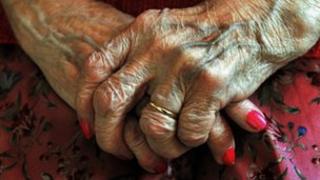 Terra Firma, the private equity group chaired by Guy Hands, has agreed a £825m debt and equity deal for care home company Four Seasons Health Care.
Four Seasons said it expected the deal to cut its debts and put the company on a more stable financial footing.
Unions expressed concern that the new owners may try to cut costs, but Terra Firma said providing high quality care was its "number one priority".
Four Seasons employs 30,000 staff and operates over 500 UK care homes.
The £15bn care-for-the-elderly market is expected to grow at 3.1% a year for the next 10 years.
Maximising profits
Helga Pile, Unison national officer for social services, said: "Private Equity takeovers are noted for looking at ways of maximising profits.
"The elderly care sector by contrast is woefully underfunded and cannot afford to lower the quality of care by cutting staff or depressing the training and wages of people who work in it."
Justin Bowden, GMB national officer for Four Seasons staff, said: "After Southern Cross and this uncertainty leading up to this sale and refinancing, residents, their families and staff desperately crave stability and calm."
He said the union would be seeking assurances that the acquisition wouldn't be "another EMI-style debacle".
Mr Hands said: "Our number one priority is to ensure that Four Seasons delivers consistent high-quality care and peace of mind for residents, service users and their families."
Terra Firma took over music group EMI in 2007 in a disastrous £4.2bn deal, which Mr Hands later admitted was far too much.
Investment bank Citigroup took control of the music label, home to artists such as Lily Allen and Robbie Williams, last year following a protracted legal battle.
Trading profitably
Four Seasons is now trading profitably after struggling with debts which totalled £1.6bn in 2009.
A debt-for-equity swap with Royal Bank of Scotland saw the bank take a 40% stake in the company in return for a near halving of the debt mountain.
Four Seasons said it expects the Terra Firma deal to be completed on or before 16 July at which point all its debt liabilities would be discharged in full.
Chairman Geoff Westmore said: "Our current lenders will be repaid in full and, going forward, the company will have a substantially lower amount of debt and a stable and secure financial structure."
Four Seasons became the UK's largest elderly care provider last year after acquiring 140 homes from its defunct rival Southern Cross.
The company said it is in a stronger position than Southern was because it owns approximately 60% of the homes and care centres it operates, thus limiting its exposure to rental costs.
Last month, Terra Firma bought another debt-laden business, The Garden Centre Group. It valued the firm, formerly known as Wyevale, at nearly £280m by revenue.