Clydesdale and Yorkshire banks to axe 1,400 jobs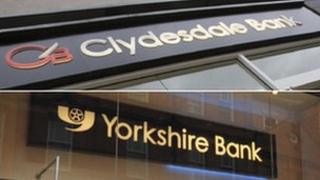 The Clydesdale and Yorkshire banks will cut 1,400 jobs by 2015, their owner National Australia Bank (NAB) has announced.
It follows a strategic review of its UK operations.
NAB said the decision was taken after a "significant downgrade in the growth prospects of the UK economy".
The banks will pull out of commercial property lending and narrow their focus to consumer and small business lending in Scotland and the north of England.
Advice centres shut
NAB said its UK operations had made a loss of £25m in the second half of the financial year, compared with a £77m profit the same time a year earlier.
It blamed the fall on deteriorating commercial property loans and an increase in the cost of funding after Clydesdale's credit rating was downgraded last September.
The bank made a charge in its accounts of £282m for bad loans, mainly in the commercial property market.
"UK Banking's risk appetite will be modified and will no longer accommodate financing of property development or property investment, where the underlying purpose is to generate rental income and capital gains," the bank said.
The "vast majority" of the banks' commercial property portfolios, valued at about £6.2bn, will be transferred to NAB.
It said it would close 29 of the banks' 73 Financial Solution Centres, which offer services to businesses and better-off individual investors, and merge nine others with local retail branches, adding that the changes would mainly affect operations in the south of England.
Six back office locations would also shut, it added in its statement.
The bank said it expected the closures and restructuring would cost about £195m, but would save about £74m a year by 2015.
Following the cuts, the workforce of NAB's UK operations would stand at 6,900, down from 8,300.
The restructuring needs to be approved by both the Australian and UK financial regulators before it can go ahead.
"[The banks'] are having to retrench and go back to their core activities and core geographies... offering building society services to local people," Chris Roebuck from the Cass Business School told the BBC.
"Areas that were viable before the financial crisis are no longer viable."
'Not credible'
The Unite union described the job losses as "brutal".
"Unite finds it disgusting that the company decided to release a statement from Australia in the middle of the night so UK staff across Yorkshire and Clydesdale banks would wake up to hear that their jobs are being cut through the morning news reports," said the union's national officer David Fleming.
"This is not the behaviour of a responsible or credible organisation."
NAB bought Clydesdale Bank in 1987, followed by Yorkshire Bank in 1990. The banks' operations were merged by NAB in 2001, although the two names have been retained.
Yorkshire Bank was founded in 1859 in Halifax, West Yorkshire, and has 185 retail branches, while Glasgow-based Clydesdale has 152 outlets.