Executive pay 'revolt' web tool launched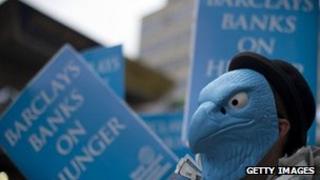 A new web tool has been launched that lets individuals complain if they feel executive pay at companies is too high.
The tool lets you choose your pension fund or ISA provider and emails them a letter asking them to vote against high pay and bonuses.
High executive pay has drawn criticism from investors, politicians and financial regulators.
Last week, Barclays was stung as almost a third of shareholders voted against the bank's remuneration policies.
The web tool was made by the campaign group FairPensions and backed by the think tank the High Pay Centre. They say the project "provides a unique way to influence pay practices at the top".
Pension funds and ISA providers invest in many of the UK's FTSE 100 firms and have an opportunity to vote against remuneration reports at the annual general meetings.
"It's high time that we get a handle on excessive executive pay," said Sir Mike Darrington, former managing director of bakers Greggs.
"For too long now many of those at the top of Britain's biggest companies have continued to reap enormous rewards while profits and share prices fail to impress. I urge anyone who cares about excess at the top to take the online action."
The High Pay Centre said that only 18 remuneration proposals had been rejected since 2002.
On Friday, the result at Barclays showed 32% of shareholders - including those abstaining - refused to back the company's remuneration report.
Almost 21% also voted against the re-election of remuneration committee chairman Alison Carnwath. It is one of the biggest shareholder rebellions of recent history.
Barclays' chairman, Marcus Agius, apologised for the firm's failure to communicate over the issue, which prompted heckles and mocking laughter from shareholders.
In particular, many were angered by Barclays chief executive Bob Diamond receiving a £1.35m salary and a £2.7m bonus for 2011, as well as £2.25m in long-term incentive payments.
But there were concessions made on the bonuses of the chief executive and finance director in the past month that satisfied some investors.
Mr Diamond and finance director Chris Lucas agreed they would receive only half of their bonuses awarded for last year until certain targets for the bank had been met.
Earlier this year, there was a controversy over the bonus awarded to RBS chief executive Stephen Hester.