Ford earnings fall amid Europe's economic weakness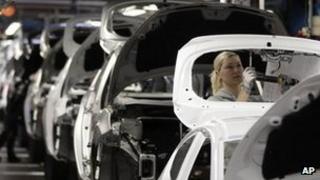 US carmaker Ford has reported lower quarterly profits following weak sales in Europe and higher tax charges.
Ford, the second-largest US carmaker, said first quarter net income was $1.4bn (£862m), down from $2.6bn for the same quarter last year.
Ford said about half the drop was due to it paying a higher tax rate.
Ford made a loss of $149m in Europe where many economies are struggling. The carmaker's sales in Europe were down by 60,000.
Ford also reported losses in Asia, Africa and South America. However, in North America pre-tax profits rose 17% to $2.1bn, which was its best performance in the region since 2000.
The company's results contrast with others this week from leading car firms.
Volkswagen, Daimler, Honda, Hyundai and Chrysler all reported an increase in profits for the quarter.
Earlier this month, Ford said it would increase its investment in China with plans to build a $760m factory in Hangzhou.
Ford has been boosting its manufacturing capacity in China as part of its effort to raise global sales by nearly 50% to about 8 million cars by 2015.