Leicester Tigers tackle injuries using IBM analytics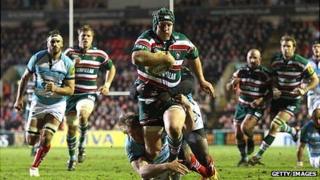 Thirty years ago, top tennis players were considered cutting-edge in their use of dieticians, while other sports such as football were also looking towards innovations such as sports psychologists.
Since then we have seen the growing introduction of statistical data around leadings sportsmen and women, be it for post-match analysis or to sign talented unknowns who have been overlooked by other clubs.
The latter use of data was pioneered by Billy Bean at the Oakland As baseball team in the US, and the success of the subsequent Moneyball book and film about his methods have catapulted data further into the sporting spotlight.
At Leicester Tigers rugby union club, they have teamed up with computer giant IBM to use "predictive analytics" to try and predict different aspects of team fitness and performance, rather than simply using data for post-match analysis.
More specifically, they are looking to assess the risk of injury to players, and then use those insights to deliver personalised training programmes for star performers at potential risk.
Financial disadvantage
"We have got to a lot of finals but we have not won them all," says Andy Shelton, the Tigers' coach in charge of sports science, strength and conditioning.
"We have also been in the Heineken Cup final a number of times but not won since 2001. Our problem is that we do not win all the time."
He says that when English clubs compete against top European sides in the the continent's top rugby union trophy, they are on an "uneven playing field".
That is because whereas England's 12 Premiership teams have agreed a salary cap of £4.5m for next season, the cap for French clubs is about £7.2m.
Mr Shelton says that means the Tigers must "use our money wisely", at the same time as looking for other ways to find a competitive edge by keeping their best players in action.
"It gets more competitive every year and our focus must be on helping our players stay injury-free for longer," he adds.
Losing a top player for an extended period of time can not only hurt a team on the field, it can hit ticket sales and spectator attendance if the team does not perform to expectations.
"When we have our key players available against the top European sides, we can compete and we will win," says Mr Shelton.
"If we do not have those players available then we will lose - so the question is how do we keep key players on the pitch?"
The new IBM predictive analytics is designed to enable the Tigers to "broaden and deepen the analysis of both objective and subjective raw data, such as fatigue levels and game intensity levels".
For example, if a player has a statistically significant change in one or more of his fatigue parameters and the intensity of training is likely to be high, the analytics software may show that the player is likely to become injured in the near future.
Armed with this data, the Tigers - who currently sit second in the Aviva Premiership table with one regular season game to go - will then implement strategies to reduce fatigue or alter his training accordingly.
'Fine line'
Mr Shelton says that with rugby being a collision sport, players have to cope with the huge physical forces their bodies are subjected to.
"Over the course of a season, the physical side will win us games week after week - rather than moments of genius," he says.
"It is a fine line, and this [analytics] will help us. It means protecting a player by assessing injury risk."
Data insights gained are therefore used to deliver personalised training programmes for players at risk.
"There is a tremendous value to be gained by retaining experienced players within the squad," Mr Shelton says.
As well as these physical aspects, it is also hoped that predictive analytics can be used to improve the psychological aspects of a player's game.
IBM's predictive analytics allows Leicester Tigers to analyse psychological player data, to reveal other potentially key factors which could affect performance.
For instance, away games may cause higher stress levels than home games, and social or environmental stress could significantly change the way players perform during a match, or predispose a player to injury.
"This will never take away from coaching," admits Mr Shelton, but he does see that using "predictive analytics" can also help clubs fine-tune some of these more mind-based aspects of preparation.
For example the club can also ask each of its players how difficult they found an individual training session, and then compare those results to find which players may be struggling in relation to their peers.
'Scientific undertaking'
The analytics system will be used right down to the Tigers' under-19 level, to refine the selection process and assess who are the best players to move onto the next level and potentially to the first team.
"Sport is no longer just a game, it's becoming more and more a scientific undertaking which is driven by data and numbers," commented Jeremy Shaw, business analytics lead for media and entertainment at IBM.
"Gone are the days of relying on raw talent and gut instinct to succeed."
It is also a business where the relationship between on-field performance and financial gain through sponsorship, ticket money, TV deals and hospitality sales are all related
Mr Shelton admits that data analysis cannot turn a no-hoper into a world beater, but that it enhances other aspects of player preparation.
He adds: "There is no point in collecting stats unless you can know what to do with it.
"But by predicting things before they happen is where we can make gains, and considerably enhance performance."