Starbucks profits up 18% but sales in Europe fall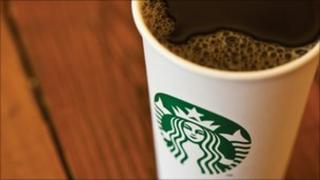 US coffee giant Starbucks has reported a sharp rise in profits despite weak sales in Europe.
Net income for the first three months of the year was $309.9m (£191.7m), up 18% on the $261.6m the firm made a year earlier. Revenue rose 15% to $3.2bn.
The company also raised its profit forecast for the full year.
However, sales in Europe fell by 1% over the period, well below analysts' forecasts. Shares in Starbucks fell 5% in after-hours trading in New York.
"The situation is very, very tough [in Europe]," said chief executive Howard Schultz.
"We will turn the Europe business around in the same way we turned the US business around."
The company said it would introduce more loyalty schemes and improve customer service to help boost sales in the region.
At the end of last year, Starbucks announced plans to open 100 new stores in the UK, creating 5,000 jobs over the next five years.