People's Daily website shares rise 78% on China debut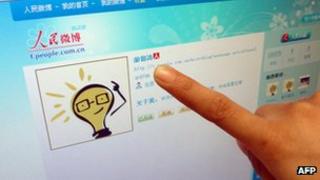 Shares of the website of People's daily, the newspaper of China's ruling Communist Party, have surged on their debut at the Shanghai Stock Exchange.
People.cn shares jumped as much as 78% to 35.58 yuan.
The website had sold 69.1 million shares at 20 yuan each to raise 1.4bn yuan ($222m; £138m), nearly three times the amount it had originally planned.
Its listing comes as China's internet market, the largest in the world, is growing at a fast pace.
The country has more than 500 million internet users and that number is expected to increase in coming years.
As a result, more and more companies are using the internet as an advertising medium to reach out to consumers.
Investors hope that as online advertising revenues grow, websites such as People.cn will see their profits rise.
However, as the market grows, an increasing number of companies are also entering the arena. The state-run website is already facing competition from private firms such as Sohu and Sina Corp.
The company has said it plans to use the amount raised from its share sale to upgrade its technology and expand its operations as it looks to boost its market share.