Barclays stung by shareholder pay revolt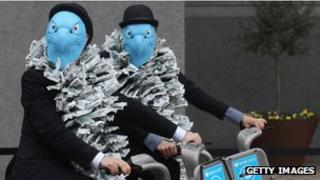 Barclays management has suffered a significant revolt by shareholders, after 26.9% of those who voted, said no to the company's executive pay package.
The vote came after Barclays' chairman, Marcus Agius, apologised for the firm's failure to communicate over the issue.
His speech at the annual general meeting prompted heckles and mocking laughter from shareholders, some of whom have been angered by high pay.
It is one of the biggest shareholder rebellions of recent history.
Including those abstaining, the result showed 32% of shareholders refused to back the company's remuneration report.
Almost 21% voted against the re-election of remuneration committee chairman Alison Carnwath.
"There is a significant minority of shareholders who feel that we got some of these judgements [on remuneration] wrong for 2011 and that we have not sufficiently taken their views on board," Mr Agius said at the bank's annual meeting.
"For this I apologise and I assure you that in the future we will be engaging differently and more purposefully with shareholders in order to ensure that we obtain a broader level of support on remuneration policy and practice," he said.
Sarah Wilson, a shareholder advisor, said it was a significant protest vote.
"The average level of dissent on these issues is about 10%. So from that point of view it's a very large company, there's a lot of worldwide shareholders to try and corral and get their opinions in," she said.
"So I think in terms of shareholders getting their point across, this is going to go down in the books as one of the most serious rebellions that we've seen for a long time."
Tim Bush, from shareholder advisory group Pirc, was at the meeting. He told BBC News: "He [Mr Agius] suggested that he could actually justify Bob Diamond's pay as actually being paid to set the bank up for the future.
"Now I'm not aware of anyone really being paid in advance."
Barclays chief executive Bob Diamond received a £1.35m salary and a £2.7m bonus for 2011, as well as £2.25m in long-term incentive payments.
"All banks face a challenge to improve their investment case by getting a better balance of returns to shareholders, payments to employees and capital retention," said Robert Talbut, chairman of the Association of British Insurers investment committee.
'Relatively nebulous'
There were concessions made on the bonuses of the chief executive and finance director last week, which satisfied some investors.
Barclays chief executive Bob Diamond and finance director Chris Lucas agreed they would receive only half of their bonuses awarded for last year until certain targets for the bank had been met.
That change was welcomed by Standard Life Investments, which owns 2% of Barclays.
"We are pleased that our key concerns over last year's executive bonuses have been addressed," the fund manager said in a statement.
"Barclays have responded constructively to our concerns and we now intend to support the remuneration report at [the] AGM."
David Paterson, Head of Corporate Governance at the National Association of Pension Funds (NAPF), said other banks should also consider their remuneration levels.
"The vote may have been passed, but the level of dissent about executive pay at Barclays needs to be taken seriously by the company and by the rest of the banking industry," he said.
"Boardroom pay in the sector needs to be better aligned with the long-term interests of shareholders."
Before today's vote, the Institute of Directors (IoD), which represents top executives, acknowledged that pay had become too complicated.
Roger Barker, the head of corporate governance at the IoD, told the BBC's Today programme: "Executive pay over the last decade has just got out of kilter with performance. It's now at the wrong level, it's become very opaque, very complex and we really I think need to get it on a much more sustainable level."
But he said that shareholders had to do more to rein in overpaid executives.
"There are some very encouraging signs, but many shareholders do need to be encouraged to really take their responsibilities seriously. The vast bulk could do much more. It really is their job to get involved in governance, it's their responsibility and they should actually step up to the plate."