Whitbread's Costa coffee boost delivers frothy results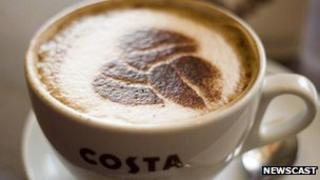 Whitbread, the hotels and restaurants group, has reported an 11% increase in full-year profits to £320.1m after strong results from its Costa coffee brand.
Costa increased sales by 27.5% and underlying profits by 38% as the nation's caffeine obsession continued.
Whitbread's hotels and restaurants division, which includes Premier Inn, increased profits by 4% to £295.6m.
Chief executive Andy Harrison said the results were "good".
Total revenues for the group were up 11.2% to £1.78bn for the year to 1 March.
Harrison said: "We remain on track to achieve our five-year growth milestones."
Premier Inn, whose TV advertising campaign is being fronted by comedian Lenny Henry, is planning to increase its inventory by 7,000 rooms to 65,000 by 2016.
Costa, which has 2,200 outlets worldwide, is due to open 350 more in this fiscal year.
"Trading in 2011-12 was variable month by month and we expect this to continue with short term comparatives affected by the phasing of bank holidays and the Olympics," said Mr Harrison.
Whitbread's share price closed the day up 6.19% at £19.21.