Why the Football League is tightening its financial belt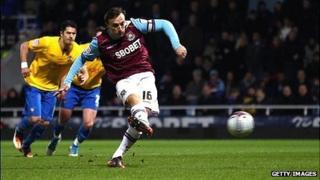 The Football League has been facing the doomsday scenario of a number of its clubs going into liquidation unless some sort of financial regulation is imposed.
In Leagues One and Two, there are constraints for clubs with regard to the proportion of turnover that can be spent on wages.
And Championship clubs have this week voted to join the other two leagues in adopting some form of financial straitjacket - in this case, by adopting their own Financial Fair Play rules based on Uefa's regulations in this area.
The changes are intended to prevent clubs sliding further into debt and will also prevent owners from funding their clubs through loans.
"They [the new regulations] will begin to lay the foundations for a league of financially self-sustaining football clubs," says Football League chairman Greg Clarke.
The regulations will be brought in from next season, 2012-13, but sanctions in the form of fines and transfer embargoes - for clubs which do not comply - will not be implemented until the 2014-15 season.
"The Football League rules are to ensure a club, in the medium to long term, has to break even," says Daniel Geey, a sports lawyer at Field Fisher Waterhouse and expert on Financial Fair Play regulations.
"However, leeway has been provided, just like in the Uefa rules, to give clubs time to comply.
"The overall aim for the Football League is for its Championship clubs not to spend more than they earn and ultimately be self-sustainable."
Share-out of fines
With the sanctions only being available from the 2014-15 season, it provides two seasons for Championship clubs to ensure they are running inside the Fair Play parameters.
"The League has aimed to achieve this through some losses being acceptable in the first years of implementation, sanctions only being brought in from the 2014-15 season, and clubs being incentivised to comply with the rules by receiving a share of the non-compliant club's fines," adds Mr Geey.
Although there are sanctions for not breaking even financially, some leeway is allowed over the next five years in the form of a "financial funnel" which allows some, diminishing, losses being allowed over the coming seasons.
And an "equity investment" is allowed, cash that can be put into the club by an owner or benefactor by way of equity, that is, cash for shares rather than debt.
In other words, the money cannot be loaned to the club by the owner.
So, for now, Championship clubs must come to terms with a new financial regime which, for next season, allows for a £4m loss as well as an £6m owner investment - permitting a total loss of £10m.
But from 2015-16, those figures will be drastically reduced, so that clubs will only be allowed to make a £2m loss, as well as accepting a £3m investment from an owner - allowing for a £5m overall loss.
Action has been precipitated by the large amount of debt which the Football League sees its clubs carrying unless action is taken now.
Otherwise, it is predicting that in five years' time, the 72 clubs will owe some £2bn combined, double what they currently owe.
"It was decided to take club debt figures as a proxy for risk," says Mr Clarke.
"The more debt people have, whether it is in the economy or families, then the more risky their circumstances are."
He adds: "Where is the Football League going to raise £1bn of new finance over the next five years?
"Banks are not lending and the capital markets are closed to us."
'Community' clubs
The League wants to get away from one of the more recent ways of obtaining new finance, by clubs scouring the globe for a foreign buyer, preferably one who would pledge to inject huge amounts of their own cash every year.
"We want to work with our football clubs - which are priceless assets for their communities - to keep them alive," says the Football League's Mr Clarke.
"Clubs should be delivered to future generations in good [financial} health."
He adds: "We are not against foreign ownership, but we wanted people to be able to own football clubs in their own community in a sustainable way that did not demand billions of pounds."
At a meeting of their owners in summer 2011, Championship clubs accepted that they should take financial responsibility for their clubs.
"It is not going to be easy, but I want to stress that this is being driven by the Championship clubs," says Keith Lamb, a non-executive director at Middlesbrough FC and former chief executive of the club.
"We want clubs to have much more manageable financial positions."
In fact, some 21 of the 24 clubs in the Championship voted for the changes.
"If there had not been action, we were going to be facing an extermination event, with two or three clubs going into liquidation, not administration," says Mr Clarke.
And the the decision is timely. With the country entering recession again, it means fans have less money to spend on club merchandise and the match-day experience, while Football League TV revenues are also projected to drop.
After the large income injections and subsequent disappearance of cash upon their demise, connected with broadcasting firms ITV Digital and Setanta, the League is now looking at a 26% reduction in broadcasting revenue from season 2012-13.
"We are not against clubs chasing the dream [of promotion to the Premier League] but want to make sure the cost is affordable," says Mr Clarke.
'Some may cheat'
Clubs that are promoted to the Premier League will have to submit accounts to demonstrate that for the period they were in the Championship, they had complied with the rules.
If they are outside of the acceptable provisions, they will be "taxed" on their losses, ranging from 1% on the first £100,000 to 100% on anything over £10m.
Indeed, the Football League has been in consultation with the FA and Premier League, in their positions as fellow stakeholders in English football, about how to apply the financial sanctions to clubs which leave the Championship through promotion.
"We need their support so that those who unlawfully break rules and lie will be held to account," says Mr Lamb.
Fines for clubs which break the rules will be pooled and then distributed each year to the clubs who have complied with the rules.
"The Football League will no doubt hope that this serves to incentivise club compliance with the prize of additional revenue," says Mr Geey.
Now Championship clubs have the tough task of adapting their spending patterns to the new regime.
"Some may cheat, some may breach the rules - we hope not," says Mr Clarke.
"But we now have systems in place to deal with those who lie about their financial positions, or clearly breach the rules."