UK back in recession: Reaction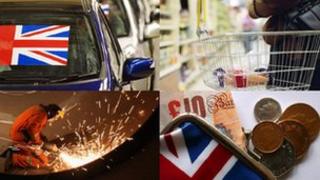 The UK economy has slid back into recession, after contracting for the second quarter in a row.
Official figures showed that GDP - the output of the economy - fell by 0.2%, more than had been expected.
This is how businesses, economists and politicians have reacted.
'Figures will knock business confidence': Institute of Directors
Graeme Leach, chief economist at the IOD, said:
"It is clearly not good news, [as] the missing link in the economy has been confidence. It has taken a battering because of the eurozone crisis, and now businesses are finding out that the UK economy is back in recession again, albeit by not much.
"But the key thing is that lack of confidence means that those recruitment plans, those business investment plans, stay on the shelf.
"What we wanted to see was them being dusted down and implemented through the second half of this year.
"Today's numbers reduce the chance of them being dusted down and that means the outlook for jobs and economic growth looks very weak."
'Things are on the up': Midlands car parts maker
'Consumers are still struggling': British Retail Consortium
Stephen Robertson, director general of the BRC said:
"Whether GDP growth is just above or just below zero doesn't change the harsh realities facing customers, but it will undermine confidence at a time when we desperately need to be going forward, not backwards.
"Sunshine helped the retail sector in March and left these GDP figures less negative than they would have been, but that cannot disguise the fundamental difficulties faced by households and businesses.
"Consumers are struggling to balance their budgets. We won't see a convincing revival until real wage growth returns, but last month's increase in inflation suggests the squeeze on disposable incomes will continue."
'Three builders a week going to the wall': NI construction firm
'Unduly pessimistic': British Chambers of Commerce
David Kern, chief economist at the BCC, said:
"Business surveys, including the BCC's Quarterly Economic Survey, have shown a more positive picture, and we believe these give a more accurate indication of the underlying trends in the economy.
"We think it is likely that the preliminary estimate will be revised upwards when more information is available.
"For the time being, the main priority is to minimise any possible damage to business confidence. These figures are at odds with the experiences of many UK businesses, which continue to operate with guarded optimism."
'Very tough situation': Chancellor George Osborne
'Economy desperately fragile': Economist Intelligence Unit
Neil Prothero, UK economist from the Economist Intelligence Unit, said:
"Irrespective of whether revised figures show a slight rise or fall in GDP, the uncomfortable fact remains that the economy is in a desperately fragile state, despite unprecedented stimulus and financial support. This should come as no surprise.
"The underlying picture is still one of very weak household consumption and business investment, exports being constrained by a stronger sterling and the inevitable escalation of the eurozone crisis, and government spending now acting as a drag on economic activity."
'Recession made in Downing Street': Ed Balls
'45,000 construction jobs at risk': Construction skills body
Judy Lowe, deputy chairman of CITB-ConstructionSkills, said:
"Today's ONS figures don't come as a surprise. Our forecast predicted that 2012 will be a difficult year for the industry, with output expected to fall by 3%, putting 45,000 jobs at risk.
"The huge cuts to public spending - 25% in public sector housing and 24% in public non-housing, and with a further 10% cuts to both anticipated for 2013 - have left a hole too big for other sectors to fill.
"Construction is fundamental to the health of the UK economy... [and] can offer a route out of recession - every £1 invested in the sector returns £2.84 to the economy - but investment is critical and is needed now."