Wal-Mart shares fall as it moves to limit scandal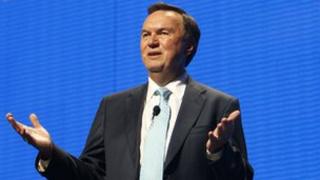 Shares in Wal-Mart have fallen another 3% as the supermarket giant moved to limit a bribery scandal.
On Monday, its shares fell 4.6% after the New York Times said Wal-Mart officials had paid millions in bribes to expand in Mexico and covered it up.
If true, the bribes would be contrary to US laws.
Wal-Mart said that the allegations were six years old . "We are working quickly to determine what happened," the company said.
The article alleged that company officials had been informed in 2005 that bribes totalling more than $24m had been paid to obtain construction permits in Mexico and hushed up the investigation.
The company said it had created a new role of global FCPA compliance officer.
That refers to the Foreign Corrupt Practices Act, which prevents US corporations from bribing officials outside of the US to advance their interests.
"This position will have responsibility for compliance with the FCPA in every market around the world and will oversee five FCPA compliance directors based in the international markets," Wal-Mart said.
"In March 2011, Wal-Mart president and chief executive Mike Duke directed the company to conduct a worldwide FCPA compliance review designed to ensure effective policies and procedures are in place in every country in which we operate."
In 2011, the US Justice Department opened a FCPA investigation into Wal-Mart.
"We will not tolerate noncompliance with FCPA anywhere or at any level of the company."
A new investigation has been launched, Bloomberg News reported .
One of the officials that the New York Times named as a "driving force" behind bribery in Mexico, Eduardo Castro-Wright, quit the board of the insurer MetLife on Tuesday.
He was due to retire this year.
Following the allegations, two US congressmen have started an investigation and asked for a meeting with Wal-Mart's chief executive.