Baidu shares decline on a weaker than expected forecast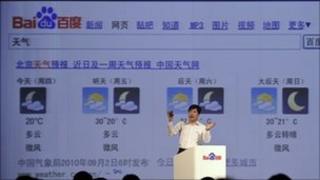 Shares in Chinese biggest search engine Baidu fell more than 10% in after hours trading after the firm issued a weaker-than-expected revenue forecast.
Baidu said it expected second quarter revenue to be between 5.34bn yuan ($846m; £524m) and 5.46bn, lower than analysts forecast of 5.48bn.
China's economic growth has been slowing in recent quarters.
That hurts companies such as Baidu, which rely heavily on advertising revenue for growth.
As a result many investors are rethinking the value of many Chinese shares, not least because they may now start reporting disappointing figures after years of robust expansion.
"At the end of the day, people expect these companies to beat numbers. They have a track record of usually beating," said analyst Aaron Kessler of Raymond James.
in New York, Baidu's American depositary receipts fell to $122.75 late on Tuesday after closing at $135.83, indicating that it would open lower when trading resumes on Wednesday.
'Steady business progress'
Analysts said while revenue growth projections were coming down, the company was still performing well and was expected to grow further.
China, the world's largest internet market, has more than 500 million internet users. Companies across the country are trying to reach out to these users in a bid to market their products and services.
With a share of almost 80% of China's online search market, Baidu has seen a robust growth in the number of firms looking advertise on its website.
On Tuesday, the company said its advertising revenue during the first three months of the year grew by 75% from a a year earlier.
That boosted Baidu's profits, with net income surging to 1.88bn yuan during the first quarter, a 76% jump from the same period last year.
"We've started the year with solid financial results and steady business progress," said Robin Li, chairman and chief executive officer of Baidu.
Mr Li added that the firm was looking to expand its operations and tap into "fast-emerging opportunities in areas such as mobile and cloud computing".
"We believe that Baidu is uniquely positioned to capture this immense growth potential in the Chinese online market."