BP oil spill: First criminal charges filed in US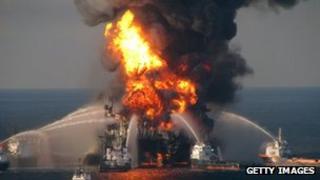 The US justice department has filed the first criminal charges linked to the Deepwater Horizon oil spill.
A former BP engineer was arrested on charges of intentionally destroying evidence.
Kurt Mix of Katy, Texas, faces two counts of obstruction of justice.
He is accused of trying to delete text messages between himself and a supervisor, in October 2010, containing details about how attempts to cap the leaking well were going.
In a sworn affidavit, FBI special agent Barbara O'Donnell said Mr Mix had "deleted numerous electronic records relating to the Deepwater Horizon disaster response, including records concerning the amount of oil potentially flowing from the well, after being repeatedly informed of his obligation to maintain such records".
Mr Mix, 50, was involved in some of BP's attempts to cap the well, including the unsuccessful Top Kill efforts in May 2010.
Prosecutors say he deleted messages that indicated Top Kill was failing at a time when BP officials were saying publicly that it was broadly proceeding according to plan.
Mr Mix resigned from BP earlier in 2012.
In a statement, BP said it "had clear policies requiring preservation of evidence in this case and has undertaken substantial and ongoing efforts to preserve evidence".
The justice department said Mr Mix would make his first appearance in a Houston federal court later on Tuesday.
The Deepwater Horizon rig, which had been leased by BP, exploded on 20 April 2010, killing 11 workers and eventually spilling more than 200 million gallons of crude oil.