Arm Holdings profits up 22% as 'lives become digital'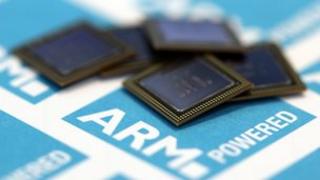 Arm Holdings, which designs chips used in smartphones such as iPhones, has reported rising profits and revenues.
The UK firm's quarterly pre-tax profits rose 22% to £61.9m in the first three months of 2012 from last year.
"As many aspects of our lives become digital, we continue to see an increase in the demand" for Arm's products, the firm said.
But shares fell 5% after it said next quarter's sales from royalties would be "broadly flat".
Arm, which makes most of its money in US dollars, increased dollar-denominated revenue by 13% to $209.4m in the quarter.
From June, Microsoft will sell products with its Windows software on devices powered by Arm's chip designs for the first time.
In March, Arm unveiled what it called the "world's most energy-efficient microprocessor" design, the Cortex -M0+ architecture.
It said it has sold 10 Cortex-M class licences.
"Whilst first-quarter industry shipments declined sequentially, most analysts expect the industry to recover in the second half," Arm said.
The Cambridge-based firm said 1.1 billion chips it designed had been shipped in mobile phones and mobile computers, roughly the same as a year ago.
It also signed 22 processor licences in the quarter.