The businesses looking for the 'magic middle' on social networks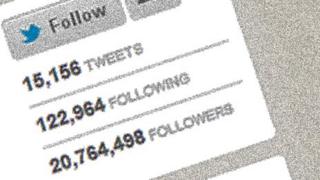 As anyone who survived school will know, there was never any shortage of reminders of how popular you were - or weren't, as the case may have been.
Picked last for the football team, ignored by the prettiest girl or best-looking boy... life can be cruel when you're young.
Fortunately, we all get older and a little more grown up about things.
Or do we? In a world of retweets, "likes" and +1s, there is no shortage of services claiming to tell you how influential and important you now are.
And if you're lucky enough to be up there with the social media elite, you could find yourself being highly sought after from eager brands trying to piggyback your popularity.
Secret sauce
This is the fledgling industry of social media influence, a raft of services which track your online reputation by monitoring activity on social networks.
The main players include Klout, which launched in 2009; Peerindex, in 2010; and Kred, which is building up a head of steam after its unveiling last year.
All proudly claim to be in possession of social media's secret sauce: an algorithm that can pick the influential voices out of the crowd.
For businesses, the appeal of this is obvious.
If you're a company about to launch a new product - let's say, a new type of dog food - it is now possible find out who tweets a lot about their dog.
But, and here's the real selling point, social influence measures can supposedly determine if anyone is listening to those tweets, thus making the enthusiastic dog-tweeter a valuable asset to a marketing campaign - particularly if you can get them tweeting about your brand.
'Magic middle'
It's these low-profile yet trusted opinion formers which companies are keen to harness. They are in what Azeem Azhar, chief executive of Peerindex, keenly refers to as the "magic middle".
"You have to think of the world as a pyramid," he explains.
"At the top are the bloggers, celebs and journalists. Companies already know how to identify those people - and those people know how to market themselves.
"When they talk, they talk with the voice of the professional - but it's not necessarily the voice of a friend. The majority of people are relatively quiet on social media.
"But in the middle is a group we call the magic middle - call it about 9% of the social web - and that's people who do have this bigger-than-normal reach and a bigger-than-normal reputation in particular subjects or topics."
Free trainers
To get the "magic middle" chattering can take some persuasion, which is where the next major phase of social influence comes in.
Fitness giant Reebok is one of a number of brands dipping their toes in "perks" - a system by which companies can offer discounts and freebies to a select band of social media users who are, according to those sacred algorithms, influential.
"What this is allowing us to do is communicate more of a brand-led story," Mr Allin says.
"So when we're launching something new we're allowing people to find out about it without a hard sell.
"It's a more informal, more conversational - it sits really well alongside what else we're doing."
He says that Reebok have so far been encouraged by the response, but it's as yet too early to predict the campaign's success.
"We are keeping a good eye on how things are going," he added. "The real scrutiny will come in the following weeks."
Quirks
Reebok will certainly be hoping to do a little better than Chevrolet, who last year lent cars to 130 people who had a Klout score of 45 or above.
The buzz was considerable with more than 16,000 "positive" mentions logged. However, this activity led to just one single direct sale of a car.
However, not to be put off, the company has just begun another campaign using Klout.
Michael Litman, head of engagement for social technology consultants 9010 Group, still needs some convincing of the power of online influence.
"It provides a skewed vision of influence and tries to adopt a one-size-fits-all approach when influence is anything but," he says.
"Importantly it doesn't take in to account offline influence.
"So you could be at the very top of your game but if that isn't reflected in the number of social followers/fans you have, you won't be perceived to be influential."
A quick straw poll on Twitter highlights some intriguing quirks in the social influence system - such as Jonathan, a student who was baffled to learn he was a leading authority on Adolf Hitler.
Or Claire, who is influential on the subject of parenting, despite having no children.
And Kelly Rose, a woman who is rightly wary of the reliability of her profile when it tells visitors that she specialises in, wait for it, diarrhoea.
Mr Litman backs up his concern by saying that, according to Klout, the most influential person in the world is Justin Bieber.