Hong Kong fines brokerage firm for inadequate diligence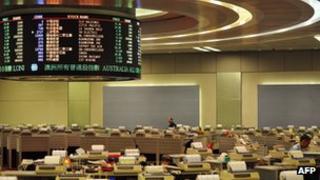 Hong Kong's securities regulator has fined a brokerage firm and revoked its corporate finance licence as it seeks to implement tighter control over share sales.
Mega Capital (Asia) has been fined HK$42m ($5.4m; £3.4m) for "inadequate and sub-standard" diligence work and "failure to act independently".
The firm was the sole adviser to Hontex International, which had raised HK$1bn via a share sale in 2009.
Mega Capital has denied the charges.
"Mega Capital's failure in discharging its sponsor's duties prejudiced the regulatory assessment of Hontex's suitability for listing and jeopardized the interests of the investing public," said Mark Steward, executive director of the Securities and Futures Commission (SFC).
The fine is the largest so far imposed by the SFC.
'Regarded most grimly'
Hontex International listed on the Hong Kong Stock Exchange in December 2009.
However, just months after the listing the SFC filed a case in the High Court alleging that the prospectus filed by Hontex contained "materially false or misleading information".
The accounts of Hontex and four of its subsidiaries have been frozen and trading in its shares has also been suspended since March 2010.
The SFC said that Mega Capital, being the sole sponsor of Hontex, had failed to carry out its duties and gather proper information on the company.
In its statement , the SFC alleged that while collecting information on Hontex, Mega Capital had not approached any of Hontex's suppliers or customers directly.
The regulator said that all interviews conducted by Mega Capital "were arranged by Hontex and conducted in the presence of Hontex's representatives".
It also alleged that there were "no records showing what background or other due diligence searches had been conducted by Mega Capital on the suppliers, customers and franchisees of the Group".
"Given the important role played by sponsors, these failures must be regarded most grimly. The sanctions imposed on Mega Capital should make it clear that the SFC condemns such failure in the strongest terms," said SFC's Mr Steward.