Osborne under pressure to provide extra IMF loans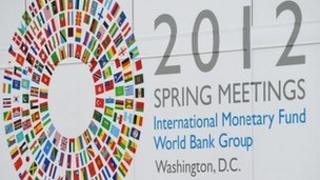 Chancellor George Osborne is under pressure from the International Monetary Fund (IMF) to provide more loans to help economies in trouble.
Finance ministers from the G20 group of leading economies are meeting in Washington to discuss boosting the IMF's resources.
IMF managing director Christine Lagarde wants to boost her organisation's lending capacity by $400bn (£250bn).
Mr Osborne says any deal on IMF funding will have to be done at a global level.
The IMF has already received commitments of $320bn, including $60bn from Japan.
Brazil wants to have a bigger say in running the IMF in return for a commitment of extra money, while the US is not likely to offer any money because doing so would attract criticism at home in a presidential election year, according to BBC economics correspondent Andrew Walker.
Russia's deputy finance minister Sergei Storchak has said that his country will offer $10bn and that he is confident that the IMF will reach its funding target.
"Trust me that the G20 will announce the final amount," he said.
Committing the extra money does not mean it will actually need to be loaned.
The IMF hopes that if private investors think that countries in trouble can be rescued if necessary, they will be more willing to lend to them and any funding problems will not escalate.
It has already warned that the eurozone's debt crisis poses the biggest threat to the global economy, and warnings about Europe are expected to top the eventual communique from the meetings.
Mr Osborne has some room for manoeuvre because Parliament has previously approved £40bn of loans, of which only £30bn has been committed.
A Treasury spokesperson said: "The UK is a longstanding supporter of the IMF.
"However, we been clear that there are strict conditions under which we would agree to an increase in resources."
These conditions include no funds being specifically earmarked for the eurozone and the participation of other G20 countries.
In a speech made in January, Mr Osborne said: "IMF resources to support individual countries cannot be a substitute for further credible steps by the eurozone to support their currency."
Conservative MP Mark Reckless told the BBC that the eurozone's problems were beyond the IMF's help.
"Countries such as Spain and Portugal are hugely uncompetitive against Germany and until that problem is dealt with... I don't think anything the IMF can do in providing temporary support is really going to help," he said.
But Ngaire Woods, professor of international relations at Oxford University said: "The IMF is the crucial backstop to Europe's own efforts and if Britain isn't going to be part of leading the cooperation with the IMF it's hard to see what Britain's strategy is."
"What we risk is every individual country saying 'we're doing our own austerity' and thereby failing to contribute to a collective solution," she told the BBC.