Nissan to manufacture two Infiniti models in China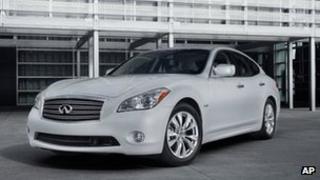 Nissan Motors has said it will start manufacturing two models of its luxury brand Infiniti in China in an attempt to tap into the fast-growing market.
Nissan is looking to increase its Infiniti sales in China. Last year it sold just under 20,000 units in the world's biggest car market.
China currently imposes import tariffs on luxury goods, which makes Infiniti cars more expensive for buyers.
Analysts said the move would help bring the costs down and boost sales.
"Imports tariffs are quite high in China. So if they want to be competitive and achieve high volumes they need to localise," Kurt Sanger of Deutsche Bank told the BBC.
'Always a challenge'
Carlos Ghosn, Nissan's chief executive, has set a global sales target of 500,000 luxury cars per year by 2016.
China, which has seen a rise in demand for luxury vehicles, is expected to play a big role in achieving that goal.
While making cars in China is likely to boost sales, analysts said the company would have to ensure that it maintained proper quality controls.
"Localising your luxury brand, which is supposed to stand out in quality and customer experience, is always a challenge," said Mr Sanger.
He also warned that if the company were not able to achieve high sales in China, the move may backfire.
"The biggest risk is volume - if you don't achieve the targets you can't meet your costs."
Yen factor
The move comes at a time when Japanese carmakers, who rely heavily on overseas sales for growth, are having to deal with a strong yen.
The Japanese currency has risen by almost 18% against the US dollar in the past two years.
A strong currency not only makes Japanese cars more expensive to foreign buyers, but also hurts profits of the manufacturers when they repatriate their foreign earnings back home.
Analysts said the strong yen was likely to have played a big role in Nissan's decision to start producing the models in China.