Competition pushes Nokia into losses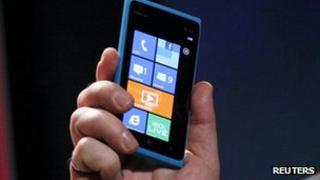 Mobile phone company Nokia has reported a net loss of 929m euros ($1.2bn; £761m) in the first three months of 2012, following a profit warning earlier this month.
The loss compares with a profit of 344m euros in the same period of 2011.
Nokia warned on 11 April that it would make losses in the first two quarters.
The Finnish company said competition in the industry had led to lower sales, particularly in India, the Middle East, Africa and China.
The losses were worse than had been expected, even after the profits warning.
Nokia's Windows smartphones have been struggling to compete with competition from the likes of Apple and Samsung.
Nokia's chief executive Stephen Elop said he was pleased with the awards and acclaim for the company's Lumia devices, but added: "The actual sales results have been mixed."
"We have faced greater than expected competitive challenges," he added.
Mr Elop said that he would be trying to implement his new strategy more quickly.
He promised to announce extensive further cost-cutting measures soon.
The company also said it was restructuring its sales team and that Colin Giles, executive vice-president of sales, would be leaving the company at the end of June.
Nokia's net sales fell to 7.35bn euros in the quarter, down 29% from the same period last year.