Barclaycard unveils mini, stick-on credit card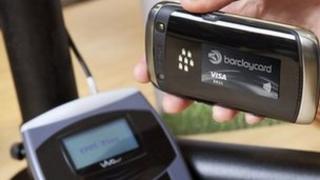 The latest salvo in the battle to launch a digital wallet has been unveiled - with a mini, stick-on credit card.
Barclaycard is hoping that UK customers attach the extra card to their mobile phones and use them at "contactless" terminals for everyday purchases.
This wave-and-pay technology has been in place for a few years.
It allows cardholders to spend up to £15 at certain stores, without entering a Pin.
However, the latest product, which will be available to millions of Barclaycard customers by the end of the year, remains some way short of interactive banking on a mobile phone.
'Convenience'
The Barclaycard PayTag is being offered to a group of customers who will receive letters in the coming days. It is one third of the size of a standard credit card, with a sticky reverse side.
It will be sent without charge to customers who request it and will come in addition to their regular credit card.
The credit card provider believes that people should stick it to the back of their mobile phone handset because most adults carry their phone with them at all times. Cardholders may choose to attach it to their wallet or a key ring, instead.
Barclaycard's Tom Gregory said that the new product gave anyone the opportunity to use a credit card stuck to their phone, without having to upgrade their mobile.
However, the implication is that a big take-up would eventually allow Barclaycard to approach mobile phone manufacturers with evidence that inserting a payment chip in a handset would be popular.
So far, this technology is available to some Barclaycard customers with certain Orange phones in the UK, but it has not yet taken off as it has in other countries such as Japan.
David Chan, chief executive of Barclaycard Consumer Europe, said he wanted the product to "open people's eyes to mobile payments".
Retailers' concerns
Contactless technology is available on a range of credit and debit cards.
Originally there was a limit of £10 on wave-and-go purchases. That maximum level now stands at £15 and is set to increase to £20 in June.
This is generally the kind of amount spent on debit cards, rather than credit cards, although Barclaycard is clearly encouraging customers to make more everyday purchases on a credit card. These will then be outlined on their monthly statement.
Some users may worry that a card visibly stuck to the back of their phone makes it more attractive to thieves. But if a card is used fraudulently, banks must make refunds without question.
If the card is used differently to the cardholder's normal habits, then Barclaycard will contact the customer to check there are no security issues.
So far, contactless payment is permitted at stores including Tesco, Boots, Pret a Manger and Eat.
However, since its launch, concerns have been raised that as more people choose to use cards instead of cash, the cost to retailers increases.
The British Retail Consortium (BRC) estimates that accepting cash payments costs shops on average 1.7p per transaction, but a bank charges the shop on average about 9.2p per transaction for debit card transactions and 37.1p for credit card transactions.
The BRC has said that some shops may have to increase prices to pay the extra charges.