China new home prices slide for sixth consecutive month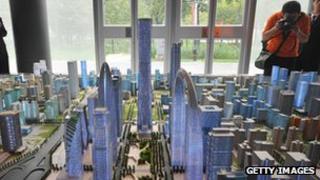 Property prices in China have fallen for a sixth consecutive month amid government efforts to control prices and curb speculation.
New home prices in 46 out of 70 Chinese cities fell between February and March. Meanwhile prices were lower than a year ago in 38 cities.
There have been fears of the formation of asset bubbles in China.
Despite the recent falls, authorities said they would continue to implement strict controls over the sector.
"This is further evidence of China's property macro control measures," said Ma Xiaoming of the National Bureau of Statistics.
"The upward pressure in home prices still exists and the property tightening is at a critical phase."
Slowing growth
However, it could also mean a further slowdown in economic growth.
The booming housing industry supported China's expansion in recent years, with real estate investment making up 13% of the nation's gross domestic product in 2011.
Since tightening measures for the sector came in two years ago, including curbs on lending and restrictions on second home purchases, growth has been weakening.
The world's second-largest economy reported a growth of 8.1% in the first three months of this year from a year earlier, the slowest pace since the global financial crisis.
Some economists warned that given the slowdown in the economy, authorities need to rethink their housing policies.
"I'm worried about negative annual growth in both property sales and construction in March. The government should start fine-tuning policies," said Jianguang Shen, chief China economist at Mizuho in Hong Kong.
"The ultimate goal of the property tightening is to drive down prices but maintain growth in construction and investment."