Apple and Samsung chiefs to meet to sort patent dispute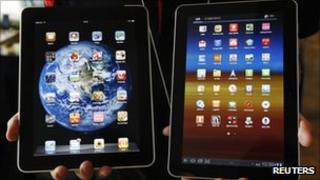 The chiefs of Apple and Samsung have agreed to meet in a bid to resolve a patent case between the two in a California court.
This was after a US judge ordered the firms to participate in a settlement conference led by a magistrate judge.
The two companies have sued each other over technology used in smartphones and tablet PCs.
The two firms are fighting patent cases in various other countries as well.
"Samsung and Apple have agreed to participate in a magistrate judge settlement conference," Samsung said in a emailed statement to the BBC.
"This settlement conference will take place within 90 days, with the presence of each party's chief executive officer and general counsel."
'Part of the armoury'
The smartphone and tablet PC segments are among the fastest-growing markets in the technology sector.
Apple had enjoyed an early lead with the launch of its iPhone and iPad devices. However, Samsung has been increasing its hold on the market with the launch of new products including its Galaxy range.
Analysts said that in this potentially lucrative market, the companies had been using patents as a tool to ward off competition.
"In a market that is really fast growing, they have used whatever they possibly can to compete with each other," Andrew Milroy of Frost & Sullivan told the BBC.
"Patents are being used as a part of the armoury."
He said the legal battle between the two companies was not in the interest of the consumers as it might result in sales of products being affected.
"Then arguably, it is the duty of the authorities to play a role in addressing the issue," Mr Milroy added.