Aquascutum enters administration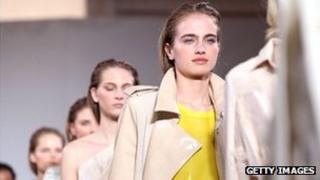 Luxury clothing retailer Aquascutum, best known for its trenchcoats, has gone into administration, putting about 250 jobs at risk.
Harold Tillman and Belinda Earl bought the business in 2009 after it had made a £24m loss the previous year.
But the company said the challenging UK conditions meant the team had been unable to turn the business around.
Founded in 1851, Aquascutum's clothes have been worn by Cary Grant, Humphrey Bogart and the Queen Mother.
The company has three UK stores - two in London, at Westfield (White City) and Canary Wharf, and one in Windsor. It also has 16 concessions, including one in Harrods in London.
It also has seven outlet stores, and 11 international concessions.
Its clothes are manufactured in Corby, Northamptonshire.
Significant losses
Joint administrator Geoff Rowley at FRP Advisory said: "We are conscious of the value of the Aquascutum brand and its long-standing heritage and because of this are keen to enter in to early discussions with interested parties open to purchasing the business as soon as possible.
"We will of course be conducting an urgent assessment of all stores and concessions and look to communicate to staff and suppliers at the very earliest opportunity."
FRP said that since Mr Tillman and Ms Earl bought the company from Japanese trading house Renown in 2009 it had continued to make significant losses.
The administration comes a day after Mr Tillman sold a 90% stake in Jaeger, whose operations are tied to Aquascutum's.
He sold the stake and all its secured debt to Better Capital, a private equity firm owned by venture capitalist Jon Moulton for £19.5m.
It has been reported that the sale was to protect Jaeger from any fallout from the collapse of Aquascutum.
One drawback in attempts to revive Aquascutum's fortunes has been the fact that its royalty rights for the Asian market, a high growth area for luxury goods, have belonged to Hong Kong's YGM Trading since 2009.