NHS and civil servants plan pension strike in May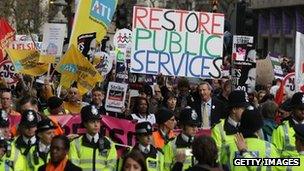 NHS workers and civil servants are to stage a one-day strike in May over their pension dispute.
The Unite trade union, which has 100,000 members in the NHS, will walk out on 10 May, a day after the Queen's speech is to set out the NHS reforms.
The PCS union said its members in the civil service would also strike over the "disgraceful attack" on pensions.
Cabinet Office Minister Francis Maude said it was disappointing the union was seeking "futile" strike action.
'Constructive discussions'
"We would urge the PCS to reconsider their position, as this strike will not now get its members any further forward." he added.
"Last month we set out our final proposed agreement on pension reform following over a year of constructive discussions with trades unions."
The protest is likely to be much smaller than in November, when more than a million public-sector workers staged a national strike.
In November, more than 20 public service unions went on strike.
The government says that pension benefits are too high for public-sector workers and the changes will eventually save the government tens of billions of pounds.
Unite's health members voted by more than 9-1 to reject proposed pension changes.
Unite says its NHS members, including health visitors, pharmacists and paramedics, face paying an average of £30-a-month more for their pensions.
"This disgraceful attack comes against a backdrop of pay freezes and the threat of regional pay in the public sector," said Unite's Rachael Maskell.
The National Union of Teachers (NUT) said it would "not be taking national action" in May - a comment which could still leave the door open for some sort of regionalised action.
Meanwhile, the NUT also offered its "support" to those unions that would be taking national action on 10 May.
The PCS union has about 290,000 members in more than 200 departments and agencies of government across the UK.
PCS general secretary Mark Serwotka said: "The ongoing programme of industrial action with other unions we have agreed sends a clear message to government ministers that we do not accept their unnecessary plans to force public servants to pay more and work longer for less in retirement."