Sales of low emission cars soar in UK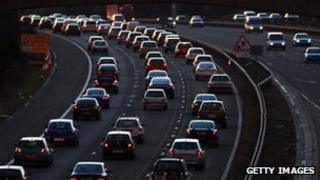 UK drivers are increasingly choosing fuel efficient cars with historically low carbon dioxide (CO2) emissions, according to motor industry body SMMT.
Demand for frugal, low emission cars has risen as a result of rising fuel prices, and technological advances have increased the supply of such cars.
The SMMT said 46.8% of cars sold in 2011 emitted less than 130 grammes per kilometre, up from 10.6% in 2007.
Average emissions from new cars sold in 2011 stood at 138.1g/km.
The average must fall below 130g/km by 2015, then below 95g/km by 2020, in line with European Union regulation.
The 2020 target may be changed, however, pending an impact assessment.
Technology improvements, coupled with changing consumer tastes, have resulted in a 23% fall in average CO2 emissions since 2000, according to the SMMT.
New cars are 18% cleaner than the UK average, according to the report.
They are also more frugal, delivering an average 54 miles per gallon of fuel, it said.
The changing consumer behaviour is closely linked to rising fuel prices, as well as to tax and insurance costs, which are higher for thirsty and powerful cars that generally emit more CO2 than smaller models.
So far, alternatively fuelled cars, such as petrol-electric hybrids or all-electric vehicles, have contributed relatively little to the overall reduction in CO2 emissions.
In 2011, just 1.3% of the market was made up by such cars.
The emission reductions have thus resulted mainly from improvements to the efficiency of petrol and diesel engines.
But to achieve further improvements, the SMMT has long been lobbying for the government to adjust taxes to encourage investment in new technologies and to offer consumers incentives to encourage them to buy more fuel efficient, less polluting cars.
"Future environmental and economic success will be determined by sustained investment in new technology, research and development, infrastructure and consumer incentives," said SMMT's chief executive, Paul Everitt.