Marks and Spencer hit by stock shortage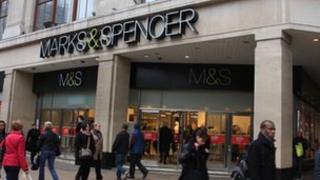 Marks and Spencer has admitted to running out of stock in some of its best-selling lines of womenswear, which contributed to a drop in sales.
Like-for-like sales, stripping out the impact of new store openings, fell 0.7% in the 13 weeks to the end of March.
On the same basis, food sales went up by 1%, but general merchandise sales fell 2.8%.
M&S said it was confident profits would meet expectations, but said the short-term trading outlook was challenging.
The company said it was taking steps to address the shortage of stock in womenswear, and added that it had managed stock very tightly with fewer goods going into its mid-season sale.
Chief executive Marc Bolland acknowledged that the firm was taken by surprise by the cold snap in February, saying it could have sold three times as many knitwear items as it had in stock.
It also could have sold twice as many women's pumps as it had available.
Shares in the retailer were down 2.45% at close on Tuesday.
Growth plans
International sales fell 2%. Despite strong trading in India, China, the Gulf and at its new flagship store in Paris, overall sales suffered from weakness in the Republic of Ireland and Greece.
The restructuring of its central European business also had an impact.
In the year ahead, the company plans to open new store space that will add 3% to its UK space and 20% to its international space.
It expects operating costs to increase by 3-5% as a result of its expansion programme, depreciation and inflation, and capital expenditure to be about £825m.
"While the short-term trading outlook continues to be challenging, we are focused on investing in line with our plan and are making strong progress against our goal of becoming an international, multi-channel retailer," Mr Bolland said.