New World Bank chief to focus on 'market-based' growth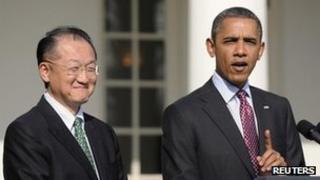 The World's Bank's new president, Jim Yong Kim, has said that capitalist "market-based growth is a priority for every single country".
In an interview with the BBC, Dr Kim said that was the best way to create jobs and lift people out of poverty.
Dr Kim was chosen as the new president of the World Bank on Monday, and was the US's preferred candidate.
However, many critics questioned his credentials and said Dr Kim's selection was based on politics not merit.
Dr Kim told the BBC that while he may lack political know-how, his background as physician would help him in his new role.
He explained that he worked for more than 25 years in developing countries. At the same time, he has been lauded for his pioneering role in treating HIV/Aids and reducing the impact of tuberculosis in the developing world.
"I am a physician. Physicians work on evidence, rather than working from a single ideology, rather than working from a particular political point-of-view," Dr Kim told the BBC.
He said that he would take into account the cultural and social peculiarities of various regions to ensure that the World Bank's various schemes achieved the desired results.
"If we can focus on the evidence of what is actually working and adapt those evidence-based interventions to local context, I think we can be very successful."
The 52-year-old Korean-American will succeed the current World Bank head Robert Zoellick, and start serving a five-year term from 1 July.
Support
Despite criticism from some corners, Dr Kim has his share of supporters as well, including US Treasury Secretary Timothy Geithner.
"His deep development background coupled with his dedication to forging consensus will help breathe new life into the World Bank's efforts to secure fast economic growth that is widely shared," Mr Geithner said in a statement.
And outgoing president Mr Zoellick added: "Jim has seen poverty and vulnerability first-hand, through his impressive work in developing countries.
"His rigorous, science-based drive for results will be invaluable for the World Bank Group as it modernises to better serve client countries in overcoming poverty."
Andrew Mitchell, UK international development secretary and a governor of the World Bank, said that "as the first development professional to head the World Bank, Jim Yong Kim's considerable experience will be vital as he leads it through its ambitious reform and modernisation programme".
Mark Weisbrot of the Centre for Economic and Policy Research in Washington suggested Dr Kim would make a very different kind of leader.
"There's just no comparison between him and any of the prior World Bank presidents," he said.
"The others were political insiders. They spent most of their lives getting rich or becoming politically powerful, or worse. Kim, by contrast, has spent most of his life trying to improve the lives of poor people."